Joined

Mar 14, 2021
Messages

27
Points

48

Hello all,
I have a few kits on my bench in the "long term ship build" category. I thought I would start here with La Flore. I built it as kid many years ago, as I see many others have, and four years ago, right before having surgery, I picked up the "Jolly Roger" and the Heller 1/150 Glorieux to give me something to work on while I was recovering. The Lindberg kit, being fairly inexpensive, was going to be my practice for painting plastic to resemble wood, and then I decided I'd use it as the test bed for rigging and sails and so forth. The mold for this kit is ancient, and a lot of flash was present, there were some warped parts, and the fit is... ok... I cleaned up some of it, filled the worst seams, but at the time, I really didn't spend a lot of effort everywhere, so don't look too close! With all the running gear, guns, boats, etc, many of the flaws are hidden from view.
Ultimately, I'm still plugging away at it, the poor thing has sat idle for a couple of years too, but the end is in sight!
I'll post the build photos here over the next few weeks and then once I'm home from sea again I can post as I finish her. She still needs her main t'gallant, mizzen, and mizzen tops'l among a few other various and sundry bits. I also have a piece of leftover butcher block I'm going to finish for the base.
So, here's La Flore, as she is today:
And, as she was in the beginning: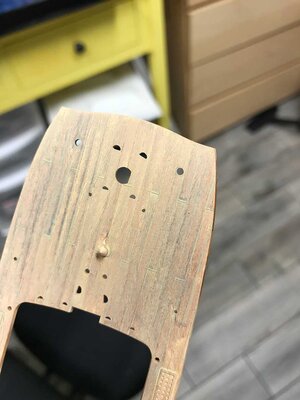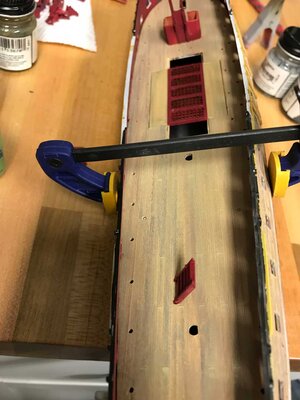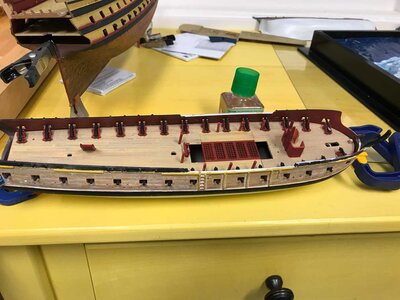 Glorieux is visible in the background of the last one. That was her initial guise. I have since started over on her, and will post a separate thread for that.
Cheers