Admin
Staff member
Administrative
Blandford Group Build
Joined

Dec 25, 2017
Messages

9,021
Points

728

Location
Today in Naval History - Naval / Maritime Events in History
2nd of September
please go to.....
Today in Naval History - Naval / Maritime Events in History 30 August 1777 – Launch of French La Sibylle, a 32 gun Sibylle-class frigate The 'Sibylle' was a 32-gun fifth rate frigate launched on 1st September 1777 at Brest. She was designed and built for the French Navy by Jacques-Noel Sane in...
some events in Pre-View:
1773 – Launch of HMS Fox, a 28 gun Enterprise frigate
Scale 1:48. Plan showing the body plan, sheer lines and longitudinal half breadth as proposed and approved for building Siren [Syren] (1773) and Fox (1773), and later for building Enterprize (1773), and Surprize (1774), all 28-gun, Sixth Rate Frigates. The plan includes a table of the mast and yard dimensions. Signed by John Williams [Surveyor of the Navy, 1765-1784].
1777 - The frigate USS Raleigh, commanded by Thomas Thompson, captures the British brig, HMS Nancy,
while en route to France to purchase military stores.

Scale 1:48. A plan showing the body plan, stern board with decoration detail, sheer lines with inboard detail and figurehead, longitudinal half breadth for Raleigh (1778), a captured American Frigate, as taken off at Plymouth Dockyard in July 1779, prior to fitting as a 32-gun, Fifth Rate Frigate. Reverse: j6611. Scale 1:96: Quater deck and forecastle, upperdeck, lower deck, fore & aft platforms.
Read more at
http://collections.rmg.co.uk/collections/objects/82918.html#AjCEUFAy8Ih5Fb6b.99
1866 - Brazilian ironclad Rio de Janeiro hit two mines on 2 September and rapidly sank
, taking 53 of her crew with her.
1945 - The Japanese Instrument of Surrender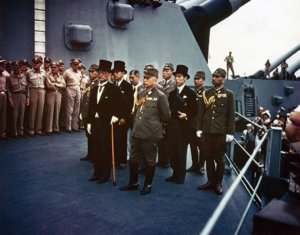 Representatives of the Empire of Japan stand aboard
USS Missouri
prior to signing of the Instrument of Surrender.