Joined

Mar 9, 2020
Messages

129
Points

113
Location
Part 1. Getting Started
Having recently completed a large modeling project in terms of time and complexity, I wanted to switch to making a model of a simpler vessel for a change of pace. In the Completed Models Forum I have previously described a number of smaller models I made that followed a bigger effort. After looking over the possibilities for this build, I decided on the 17th century Dutch galliot as described in the book "17th Century Dutch Merchant Ships" by A.J. Hoving with plans by C.A. Emke. This book discusses and provides plans for a wide variety of Dutch ships from the period. Galliots were a very successful vessel design, and were built into the 19th century in a range of sizes (In the Build Logs From Kits
Forum Hillro has started a log for a large galliot dated 1841). The version in this book, as illustrated below, is at the small end of the size range.
The plans provided in the book are very complete and include all of the details needed for hull construction, deck furniture and rigging. The original plans in 1:48 scale were reduced 1:64 scale on a copier to give a hull about 12" long. A sampling of the plans to indicate the general vessel appearance is shown below: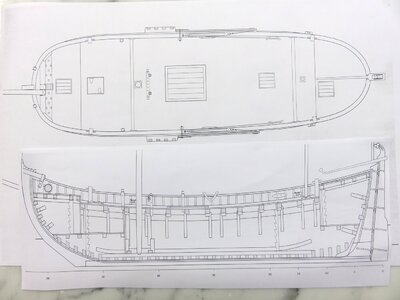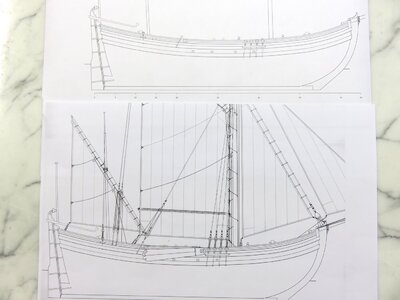 I used these plans to develop templates for a plank on bulkhead (POB) model of a galliot using the techniques described in my previous build log for the sloop of war Austin. The
completed keel piece and bulkheads are shown below: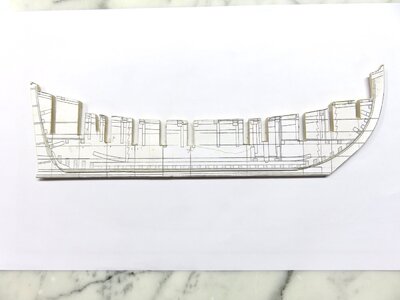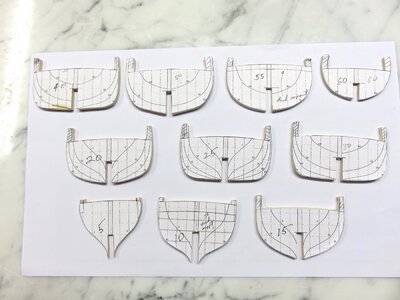 The plans called for keel, stem and stern thickness of 1/8". To provide more rigidity, 1/32" thick basswood was glued inside the rabbet lines on each side of the 1/8" ply keel piece to increase the thickness in the center to 3/16" . Bulkheads were cut from 3/16" ply except for the ones on either end which were 1/8" ply.
The bulkheads were glued into the keel piece and faired by the usual methods. Also wood was glued to the sides of the mast slots so that the masts would be centered when put in place later. As can be seen from the shape of the bulkheads, there is a transition from a box shaped cross section in the center to a sharper shape at each end. Also there is appreciable sheer. Anticipating that considerable twist will be needed in the planking, in addition to filler pieces at the bow and stern, fillers were added between the fore-most and aft-most two bulkheads towards the keel. This is shown in the below figures.