Administrator
Staff member
Administrator
Joined

Dec 25, 2017
Messages

16,409
Points

938

Location
Today in Naval History - Naval / Maritime Events in History
23 February 1781 – Launch of French Illustre,
a 74-gun Magnanime class ship of the line of the French Navy
The
Illustre
was a 74-gun
Magnanime class ship of the line
of the
French Navy
.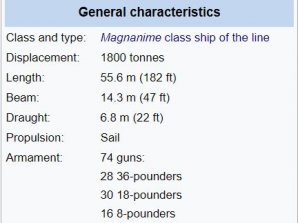 She took part in the campaigns of
Suffren
before staying in Brest between 1788 and 1791. She was
razeed
into a 44-gun frigate in 1793.
In February 1794, she was renamed
Mucius Scévola
,
and
Scévola
the next month.
She took part in the
Expédition d'Irlande
. On 30 December 1796, she was wrecked in a storm and was so badly damaged that she was scuttled. The crew was evacuated by
Révolution
.
The
Magnanime
class
was a class of two
74-gun
ships of the line built for
France
in the late 1770s. They were designed by Jean-Denis Chevillard, and both were constructed at Rochefort Dockyard.
Ordered: 1778
Begun: October 1778
Launched: 27 August 1779
Completed: December 1779
Fate: Decommissioned in 1792 at Brest, broken up in 1793
Ordered: 1778 or 1779
Begun: August 1779
Launched: 23 February 1781
Completed: March 1781
Fate: Renamed
Mucius Scévola
in January 1791, shortened to
Scévola
in February 1791, and cut down (
raséed
) to a 50-gun "heavy" frigate between August 1793 and February 1794. Wrecked in a storm on 16 December 1796 during the attempted invasion of Ireland.
https://en.wikipedia.org/wiki/French_ship_Illustre_(1781)
https://en.wikipedia.org/wiki/Magnanime-class_ship_of_the_line