Joined

Jan 18, 2020
Messages

114
Points

103
Location
Hello everyone.
After perusing various forums and websites, I have decided to build "The Smasher" by Jeff Staudt as my first 'ship' model. This is a small display of a 42-pound carronade on a deck that was used from the late-1700's until the mid-1800's.
42 pounder carronade - The Smasher
I will build the model from various wood I have on hand; which consists of Red Oak, dark and light Walnut, Mahogany, Brazilian Cherry (leftover flooring), Poplar, Basswood, White Pine and some small pieces of Ebony (old piano keys). For the Upper rail (gunnel) and the wales I will use dark Walnut, for the framing white pine, the carronade structure red oak, the outer walls light walnut, inner walls I'll use basswood because I have the thin strips in size required (it's difficult to rip 1/16-inch-thick reliably on the table saw). For the decking I was thinking of using either mahogany or poplar. For that rest of the bits I'll be using whatever brass or steel I have in the scrap bin. I'll probably 3d print the cannon barrel and a few other bits.

I will be drawing the model up in cad first to get a good understanding of the construction.

If anybody has any suggestions or criticisms as the build progresses, please send them my way… all will be appreciated.
Ken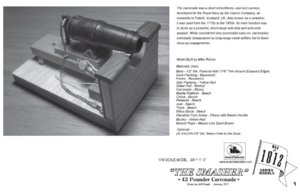 Last edited by a moderator: