Admin
Staff member
Administrative
Moderator
Blandford Group Build
Joined

Dec 25, 2017
Messages

10,859
Points

828

Location
Today in Naval History - Naval / Maritime Events in History
1st of February
please use the following link and you will find the details and all events of this day .....
Today in Naval History - Naval / Maritime Events in History 30 January 1895 - SS Elbe, a transatlantic ocean liner for the Norddeutscher Lloyd, foundered on the night of 30 January 1895 following a collision in the North Sea with the loss of 334 lives. SS Elbe was a transatlantic ocean liner...
1668 – Launch of French La Royal Louis, a ship of the line of the French Royal Navy
The
Royal Louis
was a
ship of the line
of the
French Royal Navy
. She was constructed at Toulon between 1666 and 1669 under the direction of Rodolphe Gédéon and served as flagship of the French fleet in the Mediterranean.
1756 – Launch of Spanish Triunfante, 68 at Ferrol - Wrecked 5 January 1795
1800 - USS Constellation engages French frigate La Vengeance in a 5-hour battle
The
USS Constellation vs La Vengeance
, or the
Action of 1 February 1800
, was a single-ship action fought between frigates of the French Navy and the United States Navy during the Quasi-War. In the battle the American frigate USS
Constellation
tried to take the French frigate
La Vengeance
as a prize. Both ships were heavily damaged. Although the French frigate struck her colors twice, she managed to flee after the main mast of her opponent had fallen.
In 1798, an undeclared war had begun between the United States and France due to French seizures of American merchantmen. As part of an American effort to deter French attacks, Commodore Thomas Truxton led an American naval squadron that was dispatched to the Lesser Antilles. Learning that regular French naval forces were in the region, Truxton set out in his flagship
Constellation
and sailed to Guadeloupe to engage them. On 1 February 1800, while nearing the French colony,
Constellation
met François Marie Pitot's frigate
La Vengeance
of the French Navy. Despite Pitot's attempts to flee, his frigate was drawn into a heavy engagement with
Constellation
. Although the French frigate struck her colors (surrendered) twice,
Constellation
was unable to take
La Vengeance
as a prize. Eventually Pitot was able to escape with his frigate to Curaçao, though only after sustaining severe casualties and damage to his vessel. Truxton's ship sustained light damage and sailed to Jamaica for repairs before returning home to a hero's welcome.
1851 -
Brandtaucher,
the first german submarine, sank during acceptance trials in Kiel Harbour. The crew is able to escape.
Brandtaucher
(
German
for
-diver
) was a
submersible
designed by the
Bavarian
inventor
and
engineer
Wilhelm Bauer
and built by
Schweffel & Howaldt
in Kiel for
Schleswig-Holstein
's
Flotilla
(part of the
Reichsflotte
) in 1850.
1870 – Launch of Blackadder, a clipper ship
Blackadder
was a
clipper
ship, a sister ship to
Hallowe'en
, built in 1870 by Maudslay, Sons & Field at
Greenwich
for
Jock Willis & Sons
.
Blackadder
was dismasted on her maiden voyage due to failures in the mast fittings and rigging. She "was able to reach the Cape under
jury rig
63 days out."
[4]
John Willis took legal action against the builders which dragged on to such an extent that her sister ship,
Hallowe'en
, was not handed over to Willis until nearly 18 months after her launch. After John Willis died in 1900,
Blackadder
was bought by J. Aalborg of
Kragerø
in Norway. On 5 November 1905 she was wrecked whilst on passage from
Barry
to
Bahia
loaded with coal.
1902 - Launch of USS Plunger (SS-2), the lead ship of the Plunger-class submarine and one of the earliest submarines of the United States Navy
USS Plunger (SS-2)
was one of the earliest
submarines
of the
United States Navy
. She was the
lead boat
of
her class
and was later renamed
A-1
when she was designated an A-type submarine. She is not to be confused with the experimental submarine
Plunger
which was evaluated by the U.S. Navy from 1898 to 1900.
1918 - The Cattaro mutiny or Kotor mutiny
The
Cattaro mutiny
or
Kotor mutiny
was an unsuccessful revolt by sailors of part of the
Austro-Hungarian Navy
in early 1918, inspired by the
October Revolution
. The
mutiny
took place in the
Cattaro
naval base.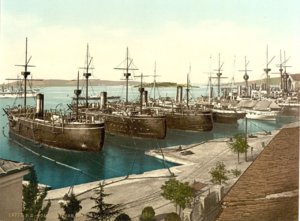 1972 - SS V.A. Fogg, a modified T2 tanker built in 1943, as SS Four Lakes, exploded and sank
SS V.A. Fogg
was a modified
T2 tanker
built in 1943, as
SS Four Lakes
. After service in World War II, she was eventually sold into private ownership. She was renamed
V.A. Fogg
in 1971, shortly before she exploded and sank off
Freeport, Texas
.