Joined

Jan 20, 2019
Messages

81
Points

183
Location
Hello,
it's high time to show what's new in the "Seahorse" shipyard, because the report of the construction of "Seven Provinces" has already bored everyone.
I will start with a few "reservations", because this report was not supposed to exist at all. The model was designed by Tomasz Król and was supposed to be quickly put together as a test, as "easy, simple and pleasant". Tomek mainly relied on old plans from the magazine "Modelarz", with a bit of help from Vincenzo Lusci's plans from 1969 - both concern the vessel with the graceful name "Alert" from 1818 (not to be confused with the British cutter of the same name from 1777). Because, as it happens with "test gluing", some little things needed to be improved, so I leaned over the topic and "digged" to various curiosities. Here they are:
1. William Dougthy in 1815 drew up plans for revenue cutters of three sizes, i.e. 31-, 50- and 81-ton. Unfortunately, we do not know what 31-ton units were built, there are no dates and names.
2. Chapelle refers to these plans in his works related to the US sailing fleet, V. Lusci relied on these plans, and certainly the plans from "Modelarz" are also based on Chapelle's studies.
3. However, if we compare Chapelle's "originals" with Lusci and the wooden model "Alert 1818" (because many publishers liked the plans of the Italian), we will see a lot of differences. So much so that "Alert 1818" is actually a fiction creation of the authors.
4. The aforementioned "Alert" is a very grateful model, but there is no confirmation in historical sources.
After many hours of discussions, surfing the net, reading books, we agreed with the author that the new model will not have its own name (similarly to the released "Armed Virginia Sloop").
The model itself is really simple and after a few hours I glued the skeleton together and covered it with the first layer of sheathing: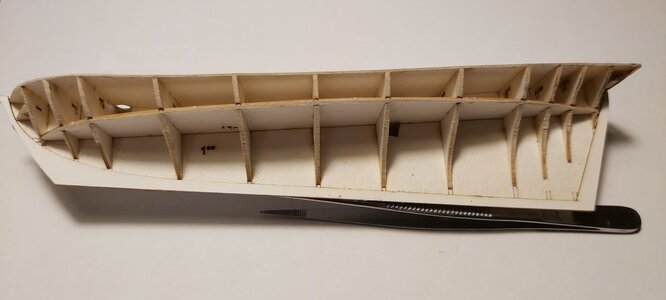 ...and a few hours later with a second longitudinal layer...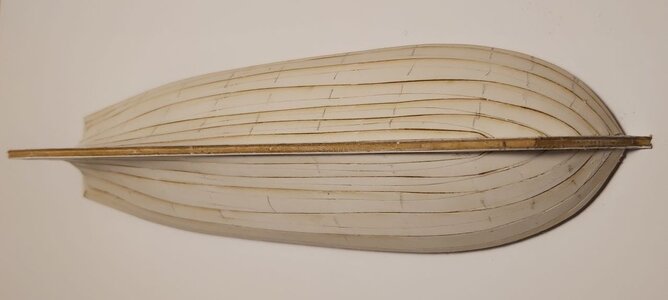 I glued the deck and the final planking in color:
Since it is the 19th century, copper plating of the hull was rather obvious and I made a plan to cover the underwater part of the hull with copper plates. I read on forums and FB about copper tapes, jaggers for marking nails, peeling off plates, gluing on CA and many other problems, and since I avoid problems and, above all, I am lazy, I bought decorative copper paper and experimented. The tests were fruitful, so Tomek Król took up the design of the plates, and I decided to make one side of the hull from single, separate plates. So I have two versions of the copper plating: a two-hour version made of ready-made "belts" designed by Tomek Król and a two-day (!) version made of separate overlapping plates: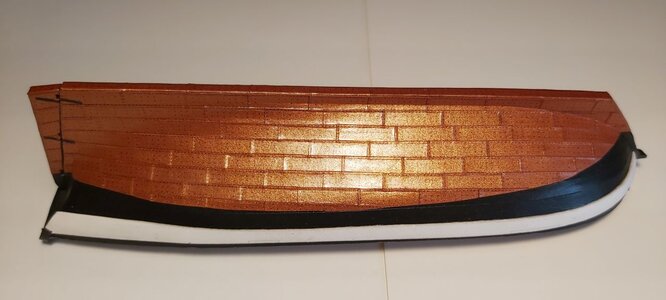 The deck equipment was modest...
...The carronade printed in resin...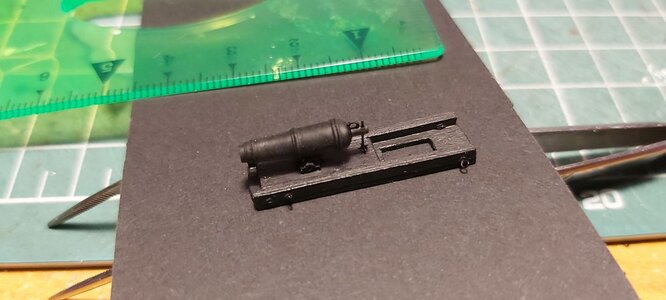 And here was a real surprise and a "problem", because by chance I found a much newer development of a 31-ton revenue cutter in the book "Global Schooners" by K.H. Marquardt. The problem is with the rigging differences, which I can't change at this stage because I'd have to destroy the hull. It's about the number of shrouds, where Marquardt shows only one shroud, and I have channels prepared for two and three:
Therefore, there is more shrouds in my test model than it will be in the final release.
Since the 19th century is not my favorite period of sailing ships, I had to do some experiments and learn some new things in rigging. So I printed tiny thimbles that were used for the standing rigging. The smallest circle has a diameter of 1.5 mm, the larger one is 2 mm: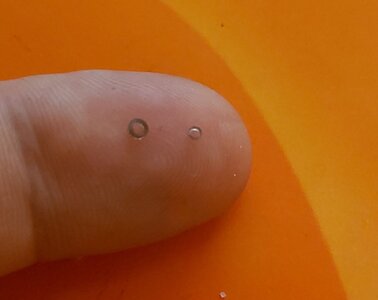 ...and thimbles on the bowsprit...
to be continued...
Tomek