Well-Known Member
Staff member
Blandford Group Build
Joined

Aug 4, 2018
Messages

1,095
Points

173

Location
I love the separated Plank look on ships its those small details that really make a ship come to life. For me its rather difficult to edge color a thin deck plank so I do it a little different. I color the edge with a carpenters pencil sharpened to a chiseled edge. I lay the plank in its place and use the pencil to color the edge right on the deck. I do both edges this way prior to putting glue on the strip.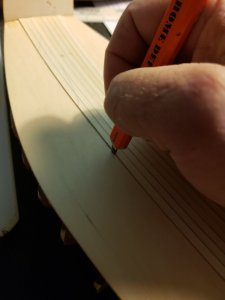 I then apply glue in a very easy way that coats the whole length I need very simply. I squeeze a little roll of glue up onto the tip then drag the strip across it while I continue to squeeze just enough glue up to coat the strip I then lay the strip down and make sure the whole surface has glue by spreading it with a clean finger. Then I place the strip where I need it and wipe away any excess that squeezes out, but I rarely have any. That takes practice to know just how much is enough without a lot of excess.
When the strip is fully glued down and any excess glue wiped away, I use the carpenters pencil to recolor the edge that will mate with a new strip one last time.
Hope this helps someone, its not a perfect way, but it works well for me.