Administrator
Staff member
Administrator
Joined

Dec 25, 2017
Messages

17,733
Points

938

Location
Book Review:
Accastillage et gréement du modèle réduit d'un vaisseau de 74 canons
by
Francis Jonet
translated something like:
Fitting and rigging a 74-gun model ship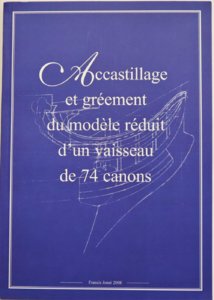 today I want to show you a great additional source, which was prepared on a private basis by my french modeling friend Francis Jonet.
Within his 118 page booklet, which was produced and sold on cost-basis by a private organisation by the author himself, Francis is showing the reader his way of preparation and installation of finishing works, rigging, sails, boats, belaying points etc. on his model of a 74-gun ship. All based on the well known monographie made by Jean Boudriot. This book is already a small number re-edition.
The text is in french, but possible to translate via google translate - app without any problems.
It is not available on the public market, nevertheless it has an ISBN 978-2-7466-0608-1 with copyright by Francis Jonet 2008
When you want to build a 74-gun ship of the french navy, or you want to learn and understand modeling techniques Francis was used, here you can find very good information.
If somebody is interested to get a copy, maybe Francis has still some copies available.......
Contents:
Here some photos to get an impression of the content, not so detailed as usual........
I met Francis personally last October during the Convention in Rochefort and made some photos of his 74-gunner in scale 1:75 and his 118-gunner Commerce de Marseille in scale 1:72, which you can find in the following link - here you can see his amazing work.
Denis Desormiere showed his L´AMBITIEUX in scale 1:48
Last edited: