Admin
Staff member
Administrative
Blandford Group Build
Joined

Dec 25, 2017
Messages

9,021
Points

728

Location
Gerard Delacroix, also member in our forum with
@G. DELACROIX
just announced the early release of a
new 1:48 planset
24-prd French frigate
"L'Egyptienne"
built in Toulon in 1799 by François Caro
Gerard agreed to use his text and photos, so please look at this Beauty:
I am pleased to announce you the beginning of the subscription for a new monograph.
It's a book about the rare 24-prd French frigates of the eighteenth century. The ship chosen is "L'Egyptienne" built in Toulon in 1799 by François Caro. The national collections retain two models of this frigate that have been of great help in the development of this monograph. As usual, all the framing, fittings and equipment are represented as well as the masts, sails and details of the rigging.
The booklet has 216 pages with many drawings in 3D and about sixty photos of the museum models. The plans folder contains 39 particularly detailed 1/48 plates.
The page of this monograph is here:
L'Égyptienne
I personally got the information by Gerard, that in the beginning the
french
version of the booklet will be released. He is planning to make an english and maybe spanish version.
When these translations are available, everybody who bought the french original can get, on request, the translation as a pdf. In my opinion a very good service!
and from the page
Sommaire de l'ouvrage :
Livret format 24 x31 cm et 39 plans réunis dans un coffret à rabat
Jaquette illustrée d'une aquarelle de Jean Bellis.
Livret 216 pages (dos carré cousu, papier 130 g) :
​
Généralités sur les frégates
L'Égyptienne
Instructions pour le voyage en Egypte
Les sources
Principes de construction
Le décor
Artillerie
Pompes à chapelets​

Les photos des deux modèles
Commentaires des planches
Devis des pièces métalliques
Peintures
Devis des bois
Gréement
Tableaux des dimensions du gréement
Remerciements​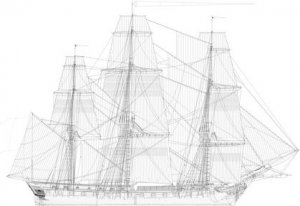 ​

Liste des 39 planches au 1/48 :

​
1 - Elévation schématique de la coque
2 - Sections verticales
3 - Sections horizontales
4 - Eléments de charpente 1
5 - Eléments de charpente 2 et pompes
6, 7, 8 et 9 - Dessins des couples
10 - Charpente de l'arrière
11 - Allonges d'écubiers
12 - Elévation de la charpente
13 - Bordage de la coque
14 - Construction de l'éperon
15 - Construction des bouteilles
16 - Coupe longitudinale de la charpente
17 - Aménagements de la cale, niveau bas
18 - Aménagements de la cale, niveau haut
19 - Charpente et aménagements du faux pont
20 - Charpente du pont de batterie
21 - Aménagements du pont de batterie​

22 - Charpente des gaillards
23 - Aménagements des gaillards
24 - Grande coupe aménagée
25 - Coupes transversales
26 - Equipements, partie 1
27 - Equipements, partie 2
28 - Embarcations
29 - Vues avant et arrière
30 - Vue de dessus de la coque complète
31 - Grande élévation de la coque terminée
32 - Plan du doublage en cuivre
33 - Dessins des mâts et vergues
34 - Garniture de la mâture
35 - Pouliage et accessoires du gréement
36 - Voiles (1/96)
37 - Aboutissements des manœuvres (1/72)
38 - Gréement dormant et voiles longitudinales (1/96)
39 - L'Égyptienne sous voiles (1/96)​
Le modèle mesure au 1/48° (L x l x h) : coque nue 1,28 m x 0,28 m x 0,27 m, coque voilée 1,66 m x 0,64 m x 1,28 m. ​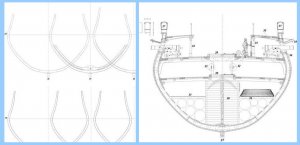 I can´t wait to get my copy, so you can expect a detailed
Planset Review
here in SOS as soon as possible....
Monographie d'une galere de 1690
gerard.delacroix.pagesperso-orange.fr
Last edited: