Administrator
Staff member
Administrator
Joined

Dec 25, 2017
Messages

14,391
Points

938

Location
The
Artois
class
were a series of nine
frigates
built to a 1793 design by Sir John Henslow, which served in the
Royal Navy
during the
French Revolutionary
and
Napoleonic Wars
.
Seven of these ships were built by contract with commercial builders, while the remaining pair (
Tamar
and
Clyde
) were dockyard-built - the latter built using "fir" (pitch pine) instead of the normal oak.
They were armed with a main battery of 28 eighteen-pounder cannon on their upper deck, the main gun deck of a frigate. Besides this battery, they also carried two 9-pounders together with twelve 32-pounder carronades on the quarter deck, and another two 9-pounders together with two 32-pounder carronades on the forecastle.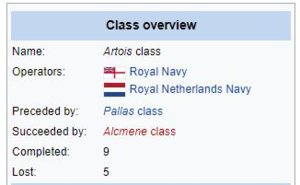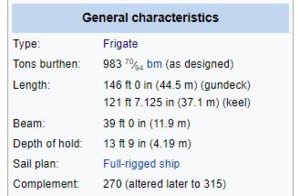 Ships in class
Due to the fact, that
Jotika / Caldercraft
has an Artois frigate in program, the HMS
Diana
is maybe the most known ship of this class.
HMS
Diana
was a 38-gun
Artois
-class
fifth rate
frigate
of the
Royal Navy
. She was launched in 1794.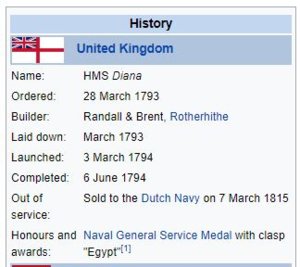 Because
Diana
served in the Royal Navy's Egyptian campaign between 8 March 1801 and 2 September, her officers and crew qualified for the clasp "Egypt" to the Naval General Service Medal that the
Admiralty
authorized in 1850 to all surviving claimants.
Diana
participated in an attack on a French frigate squadron anchored at
Saint-Vaast-la-Hougue
at the
Action of 15 November 1810
, which ultimately led to the destruction of the
Elisa
. (Boats from
Diana
went in and set fire to the beached
Eliza
despite heavy fire from shore batteries and three nearby armed brigs; the British suffered no casualties.)
On 7 March 1815
Diana
was
sold to the
Dutch navy
for £36,796. On 27 August 1816 she was one of six Dutch frigates that participated in the
bombardment of Algiers
.
Fate
Diana
was destroyed in a fire on 16 January 1839 while in dry-dock at
Willemsoord, Den Helder
.
British Fifth Rate frigate 'Diana' (1794). Dates of service, name changes, previous and next incarnations, dimensions, armament, commanders, officers and crewmen, actions, battles, sources
Dutch Fourth Rate frigate 'Diana' (1815). Dates of service, name changes, previous and next incarnations, dimensions, armament, commanders, officers and crewmen, actions, battles, sources
But also the other ships of the class had very interesting histories and careers - take a closer look at the wikipedia page of the class and click through
In the following posts you will find several contemporary drawings of the ships of this class