Joined

Dec 1, 2014
Messages

772
Points

403
Location
Well, it has been a while when i did my first wooden ship model. Few decades ago, while back in elementary school, i joined, at that time known as a "wooden ship model club". Basically a bunch of kids with a passion for ship modeling will gather together after school in the classroom dedicated to the club and start working on ship models. Those were scratch build attempts, more-less successful. The ship models that would survive all kids adventures will be presented at the "school day", kind of celebration of the school end at what time teachers and students will present their achievements during long 10 months of school days, studying and getting decent grades... Anyhow being eager to get into ship modeling, i joined the "club" and started to scratch build my first ship. It was very interesting back in those days until one bad Monday. After spending weekend working on frames for my ship, i was all pumped up to show my work to teacher and other club members. Unfortunately on the way to the school a met with local bullies who demanded, beside other things to see what i have in the backpack. Off course, being me, i did not want them to touch any of my weekend hard work so we ended up in exchanging "arguments". At some point in time, i dropped my backpack to have a bit of a better movement capabilities... I happened to defend myself and victoriously grabbed my backpack just to hear a lots of clunking noise.. Opened up the backpack and saw all my weekend hard work broken in peaces.. Darn.. Disappointed with results of argument exchanging (not disappointing with results of argument exchange) but with the broken peaces i decided not to show up on the club anymore.. Today i don't know why..
Anyhow, here i am again with another attempt. Since there is no more bullies i hope to get better success.
I did not start the build log at the beginning of my Greek Bireme journey (apologies for that); was to eager to get back to work bench so first few log pages will be just to get us all at the stage where i am now. Unfortunately there will be no much room for improvement since i am half way thru building the model.
I have not worked on models for quite some time; this will be my first attempt in several years but since i already noticed lots of mistakes i decided to buy another kit of the same ship. All lessons learned building this kit will be applied to the second..
So, lets begin....
The kit is from Amati, scale 1/35, called Bireme, Greek Warship
Content of the box is not too "crowded", instructions, small peaces, ropes, planking material...
Instructions are not the strongest feature of this kit; they are written on three languages. Two big peaces of instructions my work space wall will not be able to handle both at the same time.. So need to get a bigger workshop
The laser cut process is very precise and leaves not to much residue to be removed after you cut off all peaces...
The important part is to mark all peaces before you remove them so you will know which frame goes where...
All marked and removed for further assembly...
Being very keen to get my hands dirty (with glue) i started to dry fit all parts..
All parts fits fairly good but still a lots of movement (no snug fit) so i think i might have a bit of a challenges in the future...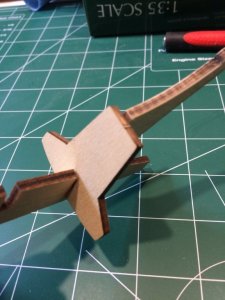 I am planing to do a catch up work this week by posting few more past pictures so i can actually start with real build log as soon as possible.
I decided to take "back to the future" approach by posting pictures of the existing stage of the ship and continue with build log that will, eventually ended up in the present time.. Weird but it should work..
I have done some planking for the lower deck (not sure what would be the correct term used during Greek period) and for the area where the oars will be located. Need to put oarsmen sits in before going with main deck planking..
There are some small holes in the bow area that i am hoping to fill out with glue and sand dust. We'll see how that goes...
But i also planing to build a "ram" following some historical pictures which, hopefully, will cover most of these small imperfections..
So i started to glue frames, finally. Making sure that frames are installed with correct angle, i improvised with some old mounting gear for a Ikea curtains. They are working OK but i think for future build, i am going to "borrow" few Lego blocks from my son' huge collection... Hopefully he will not noticed (i doubt it already)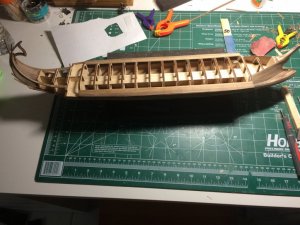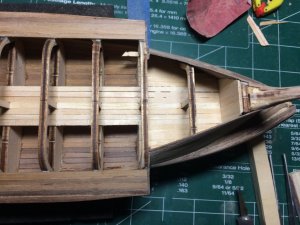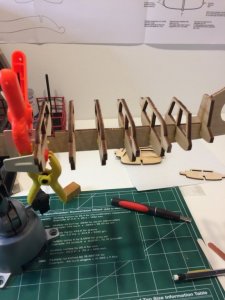 To be continued...
Last edited: