Joined

Apr 30, 2019
Messages

95
Points

103
Location
Good Morning,
Here is the beginning of my build log for my Model Shipways Bluenose.
I am finding some interesting things to consider for this model and a few decisions to be made with respect to its detailing.
First- good references are hard to come by and it's not always easy to make out details in the few old black and white photos that are available. It's complicated by the fact that there are so many good pictures of the Bluenose II available that it's tempting to rely too much on them. While the two schooners are very similar, they actually differ quite a bit in the details, so that's not always a good idea. I know it's not the only approach, by my decision is to rely heavily on the MS plans. I have found them to be very accurate in the past, so I'm going to put a high level of trust in them again this time. Plus some details can be confirmed from the old photos.
Second - how to model all the metal work on the ship. There are a lot of iron fittings on the Bluenose, most of which are not included in the kit, so the question is how best to represent them. I am not very skilled at detailed brass and solder work and not even all that interested in it, so I don't anticipate doing as much of it as I have seen on others' versions of the Bluenose. Even when skillfully done, it often seems to my eye to be a bit "heavy handed" and too big for the scale. So I anticipate not doing any more of it than is absolutely necessary and representing much of it with tiny eyebolts, strips of construction paper etc. We'll have to see how it goes.
Third - the blocks. All of the blocks on both the Bluenose and Bluenose II are internally stropped blocks, not rope stropped. But oddly, I haven't yet seen a model that incorporates that detail. Furthermore, I believe the blocks on the Bluenose were all painted white, not natural as they are on Bluenose II. They certainly appear to be white in the old photos and there are even some old colour photos which seem to confirm it. So, I have decided to include this detail and I have ordered a set of internally stropped blocks from Bluejacket. There seem to be two options for internally stropped blocks - Bluejacket and Syren. While the Syren blocks are very beautiful, I opted for Bluejacket for two reasons. The Syren blocks require a lot of assembly and fiddling around with, which the Bluejacket don't. Plus since the Bluejacket are cast metal, it's easy to paint them white, whereas it would be difficult to give them a natural finish, and it would seem a shame to paint the wooden Syren ones. So, Bluejacket it is. I'm just waiting for them to arrive along with some things from Cornwall, but international mail service is especially slow these days.
So those are my plans, we'll see how it all works out.
Here are some pictures of my progress to date. Nothing particularly interesting so far, just your standard keel, bulkhead and planking.
The waterways were clearly the place to start - they dictate the placement of the hull planks.
This is a fairly easy and quick hull to plank.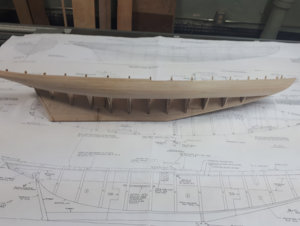 I am the world's worst hull planker. Since I always paint my hulls, I take a pragmatic approach which I know would make many builders pass out. I just can't seem to get too concerned about perfection in the planking. I manage to get a properly faired hull that's reasonably smooth and true, but I tend to apply the planks any which way. Once it's filled and painted anything else seems completely unnecessary to me. The picture below shows one application of filler and sanding. I'll give it a coat of watered down primer to better show up the imperfections and then apply some more filler.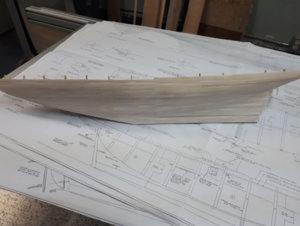 Take care everyone.
David