Administrator
Staff member
Administrator
Joined

Dec 25, 2017
Messages

17,585
Points

938

Location
Review:
Planset: "Bonhomme Richard 1779" - scale 1:48
by Jean Boudriot translated by David H. Roberts
Hardcover: 90 pages
Publisher: Boudriot (Jean), France (January 1988)
Language: English, French or Italian
Package Dimensions: 12.8 x 9.8 x 1.6 inches
Shipping Weight: 4.7 pounds
Planset is available at ancre for a price of 135 Euro
https://ancre.fr/en/monograph/54-monographie-du-bonhomme-richard-1779.html
Synopsis:
This item is not just a book of 90 pages that you read. This item consists of: 1) a paperback monograph of 63 pages in English, 2) a set of 26 superb drawings that are used for constructing a model of the Bonhomme Richard at a scale of 1/4" = 1', 3) a color sheet that shows the colors used 250 years ago on French-converted-to-American sailing warships, and 4) a buckram cover for all the foregoing. The monograph (book) is not hard back, it is soft back. The stated publication date of 1988 is in error, the actual publication date is 1987. This "information package" will give you as complete a picture of the vessel known as Bonhomme Richard as captained by John Paul Jones in the battle with HMS Serapis off Flamborough Head as will probably ever be known.
This book deals with a vessel belonging to the early navy of the United States of America. The ship won fame during the American Revolutionary War under the command of the famous captain John Paul Jones. A former East India Company 900-ton ship, it was repurchased by Louis XVI in order for John Paul Jones to take its command.
Le Bonhomme Richard (whose name is an homage to Benjamin Franklin 's Poor Richard's Almanack) headed up a division in a very bold privateer campaign on the English coasts. This campaign ended in a violent and spectacular fight against the English vessel SERAPIS and its capture in September 1779.
The goal of this monograph is a reconstruction of Le Bonhomme Richard in its most genuine form. Jean Boudriot was the only person capable of doing so, with his intricate knowledge of the East India Company's navy. He presents here a vessel built in France but sailing under the Stars and Stripes, thus furthering our knowledge of the French navy at the time of the American Revolutionary War.
From the cover:
Ever since the Bonhomme Richard sank off Flamborough Head after defeating HMS Serapis in 1779, there has been speculation about her appearance. Contemporary prints and engravings are inaccurate; manuscript records are sketchy, and the original plans have not survived. Over the last 200 years the evidence has become dispersed, and is now to be found in public and private collections in France, in England, and in America. Because Bonhomme Richard was a French ship, lent by Louis XVI to Captain John Paul Jones of the young American Navy, it required an unusual combination of talents to attempt the reconstruction: knowledge of where to look for the clues; access to both French and English-language archives; a knowledge of the ships of the French East India Company; the ability to represent the evidence visually, in a style which is both clear and interesting; and a historian´s skill to weigh facts which are sometimes conflicting, and place them within the context of the late 18th century.
This monograph follows a format which will by now be familiar; a short historical section (much expanded in the companion colume "John Paul Jones and the Bonhomme Richard"), a detailed commentary on all 25 plans (+1 in scale 1:64), rigging details and belaying points, section on the guns, ironwork and paintwork, and 8 pages of photographs of two models built from the plans. The plans are to 1:48 scale (1/4" = 1 foot), and include every timber, so that a Plank-On-Frame model can be built.
CONTENTS OF THE MONOGRAPH
A 64-page brochure
, 24x31cm format, including :
- John Paul Jones, US NAVY vessel captain
- The battle of Cape Flaniborough
- Remarks on reconstructing Le Bonhomme Richard
- Commentaries on the plates
- Rigging rules
- Guns
- Note on metal works
- Marks and flags, paint
- Presentations of models
- The designs are intended to facilitate construction of the framework.
Set of 26 plates at 1:48 scale
(except plates 24, 25 and 26 at 1:64 scale) including :
- Frame, waterlines, sections
- Wooded frame ; structure
- Layout of the structure of the hull, drawing of all frames at 1:48 scale
- Design of decks
- Cross and longitudinal sections
- Ship's boat, anchors, guns
- Fittings
- Masts and spars, rigging, sails
- Definition of the hull at 1:64 scale
Built Model:
http://gerard.delacroix.pagesperso-orange.fr/expo/Bonhomme/expo.htm
http://modelisme.arsenal.free.fr/jacquesmailliere/fichebonhommerichardgb.html
The Booklet: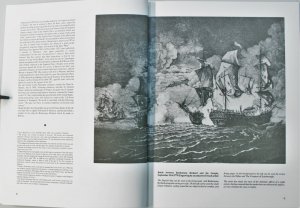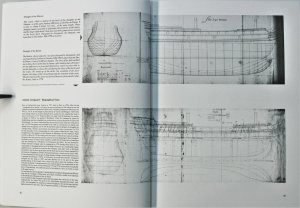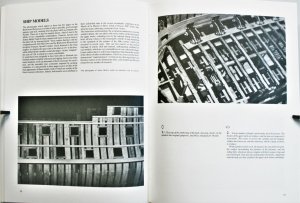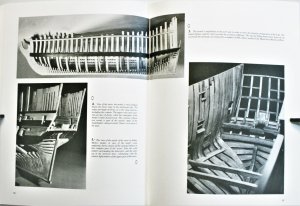 In Part 2 of this review (see next post) you can find photos of the drawings
Last edited: