Administrator
Staff member
Administrator
Joined

Dec 25, 2017
Messages

25,080
Points

1,138

Location
Book Review:
BRUNELS´S SHIPS
by Denis Griffiths, Andrew Lambert and Fred M. Walker
Hardcover: 192 pages
Publisher: Chatham Publishing; First Edition edition (20 April 1999)
Language: English
Product Dimensions: 24.8 x 1.9 x 29.8 cm,
Synopsis:
Isambard Kingdom Brunel created a number of quite revolutionary steamships - the Great Western which was the first practical transatlantic paddle-steamer; the Great Britain, the first iron-built screw-driven liner; and the monster Great Eastern which remained the largest ship in the world for almost half a century. Besides these well-known wonders of the maritime world, Brunel also worked with the Admiralty on the introduction of the screw propeller into naval service.
Although apparently well-known, the story of Brunel and his ships is surrounded by myth and self-created propaganda. In this book, a team of marine engineer, historian, and naval architect combine to analyse the scientific and economic context, the reality of Brunel's contribution, and the technical features of his ships. It is illustrated with original draughts, cutaway drawings and photographs.
left side: Hull lines of the Great Western
right side: Body plan of Great Western, prints of the
Great Western
Contents:
Introduction: The Man and his Ships / Andrew Lambert
PART I:
BRUNEL AND SHIPBUILDING
(pages 15 to 90)
1. Formation of the GWSS Company / Denis Griffiths
2. The Genesis of the
Great Western
/ Denis Griffiths
3. Brunel, the Navy and the screw propeller / Andrew Lambert
4. Iron shipbuilding / Fred M. Walker
5. The GWSS Company Works / Denis Griffiths
6. The
Great Britain
and the end of the GWSS Company / Denis Griffiths
PART II:
THE SHIPS
(page 91 to 153)
7. The steamship
Great Western
/ Denis Griffiths
8.
HMS Rattler
- Brunel's warship in service, 1845-56 / Andrew Lambert
9. The Screw-propelled iron steamship
Great Britain
/ Denis Griffiths
10. The Steamship
Great Eastern
/ Denis Griffiths.
Bibliography, Notes, Index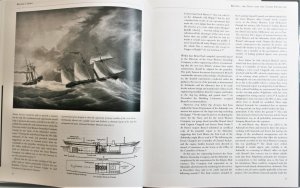 left side: paddle sloop Virago is towing the HMS Queen 110 guns
right side: screw driven
Archimedes
Review:
Isambard Kingdom Brunel
was an English
mechanical
and
civil engineer
who is considered "one of the most ingenious and prolific figures in engineering history", "one of the 19th-century engineering giants", and "one of the greatest figures of the
Industrial Revolution
, [who] changed the face of the English landscape with his groundbreaking designs and ingenious constructions". Brunel built dockyards, the
Great Western Railway
, a series of steamships including the first propeller-driven
transatlantic
steamship
, and numerous important bridges and tunnels. His designs revolutionised public transport and modern engineering. (from wikipedia)
In the book "Brunel´s Ships" his work on the three steam ships is described in detail. The fact, that three specialists of their fields Griffith, Lambert and Walker as marine engineer, historian, and naval architect are giving the reader a good insight and analysis of the scientific and economic context, as well describe the technical specialities of his ships.
A very interesting field of naval history, documented and well illustrated with original draughts, drawings and photographs. Highly recommended book.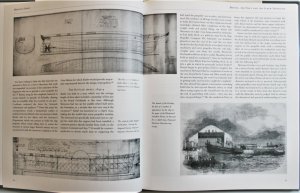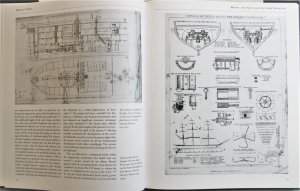 l
eft side: lines and original profile of the Rattler, the launch of the Rattler
right side: machinery installation of the Ajax, Ericsson designed US screw frigate
USS Princeton
left side: drawing of iron passage boat Vulcan, iron built coastal steamer Rainbow
right side:
Great Eastern
More Looki Inside photos of the Book you can find in the following post of this topic ..........
Additional Information and Background:
For the members who do not know Brunels work, here some short excerpt out of Wikipedia:
Transatlantic shipping
In 1835, before the Great Western Railway had opened, Brunel proposed extending its transport network by boat from Bristol across the Atlantic Ocean to New York City. The
Great Western Steamship Company
was formed by Thomas Guppy for that purpose. It was widely disputed whether it would be commercially viable for a ship powered purely by steam to make such long journeys. Technological developments in the early 1830s—including the invention of the
surface condenser
, which allowed boilers to run on salt water without stopping to be cleaned—made longer journeys more possible, but it was generally thought that a ship would not be able to carry enough fuel for the trip and have room for a commercial cargo. Brunel applied the experimental evidence of
Beaufoy
and further developed the theory that the amount a ship could carry increased as the cube of its dimensions, whereas the amount of resistance a ship experienced from the water as it travelled only increased by a square of its dimensions. This would mean that moving a larger ship would take proportionately less fuel than a smaller ship. To test this theory, Brunel offered his services for free to the Great Western Steamship Company, which appointed him to its building committee and entrusted him with designing its first ship, the
Great Western
.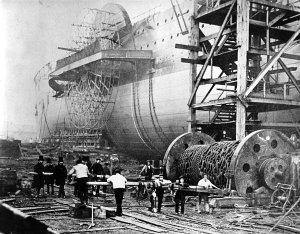 Great Eastern
shortly before launch in 1858
The Great Eastern in 1866
When it was built, the
Great Western
was the longest ship in the world at 236 ft (72 m) with a 250-foot (76 m)
keel
. The ship was constructed mainly from wood, but Brunel added bolts and iron diagonal reinforcements to maintain the keel's strength. In addition to its steam-powered
paddle wheels
, the ship carried four masts for sails. The
Great Western
embarked on her maiden voyage from
Avonmouth
, Bristol, to New York on 8 April 1838 with 600 long tons (610,000 kg) of coal, cargo and seven passengers on board. Brunel himself missed this initial crossing, having been injured during a fire aboard the ship as she was returning from fitting out in London. As the fire delayed the launch several days, the
Great Western
missed its opportunity to claim title as the first ship to cross the Atlantic under steam power alone. Even with a four-day
head start
, the competing
Sirius
arrived only one day earlier and its crew was forced to burn cabin furniture, spare yards and one mast for fuel. In contrast, the
Great Western
crossing of the Atlantic took 15 days and five hours, and the ship arrived at her destination with a third of its coal still remaining, demonstrating that Brunel's calculations were correct. The
Great Western
had proved the viability of commercial transatlantic steamship service, which led the Great Western Steamboat Company to use her in regular service between Bristol and New York from 1838 to 1846. She made 64 crossings, and was the first ship to hold the
Blue Riband
with a crossing time of 13 days westbound and 12 days 6 hours eastbound. The service was commercially successful enough for a sister ship to be required, which Brunel was asked to design.
Brunel had become convinced of the superiority of
propeller
-driven ships over paddle wheels. After tests conducted aboard the propeller-driven steamship
Archimedes
, he incorporated a large six-bladed propeller into his design for the 322-foot (98 m)
Great Britain
, which was launched in 1843.
Great Britain
is considered the first modern ship, being built of metal rather than wood, powered by an engine rather than wind or oars, and driven by propeller rather than paddle wheel. She was the first iron-hulled, propeller-driven ship to cross the Atlantic Ocean. Her maiden voyage was made in August and September 1845, from Liverpool to New York. In 1846, she was run aground at
Dundrum, County Down
. She was salvaged and employed in the
Australian service
. She is currently fully preserved and open to the public in Bristol, UK.
Sectional plan of Great Eastern
In 1852 Brunel turned to a third ship, larger than her predecessors, intended for voyages to India and Australia. The
Great Eastern
(originally dubbed
Leviathan
) was cutting-edge technology for her time: almost 700 ft (210 m) long, fitted out with the most luxurious appointments, and capable of carrying over 4,000 passengers.
Great Eastern
was designed to cruise non-stop from London to Sydney and back (since engineers of the time mistakenly believed that Australia had no coal reserves), and she remained the largest ship built until the start of the 20th century. Like many of Brunel's ambitious projects, the ship soon ran over budget and behind schedule in the face of a series of technical problems. The ship has been portrayed as a
white elephant
, but it has been argued by David P. Billington that in this case Brunel's failure was principally one of economics—his ships were simply years ahead of their time. His vision and engineering innovations made the building of large-scale, propeller-driven, all-metal steamships a practical reality, but the prevailing economic and industrial conditions meant that it would be several decades before transoceanic steamship travel emerged as a viable industry.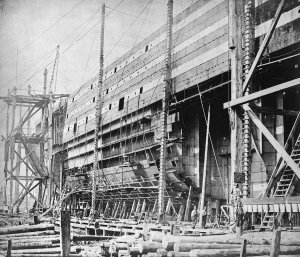 left side: Construction of Great Eastern, August 18, 1855
right side: Berthed at New York, 1860
Great Eastern
was built at
John Scott Russell
's
Napier Yard
in London, and after two trial trips in 1859, set forth on her maiden voyage from Southampton to New York on 17 June 1860. Though a failure at her original purpose of passenger travel, she eventually found a role as an oceanic
telegraph
cable-layer
. Under Captain
Sir James Anderson
, the
Great Eastern
played a significant role in laying the first lasting
transatlantic telegraph cable
, which enabled telecommunication between Europe and North America.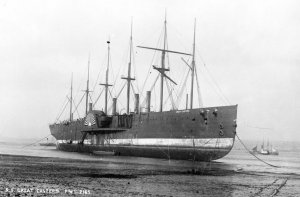 Great Eastern
beached for breaking up