Administrator
Staff member
Administrator
Joined

Dec 25, 2017
Messages

22,194
Points

1,038

Location
In the meantime this valuable work is also online for free available, but some people like to have a book in hand (like me)
At the end of this Review you can find one link for a online-version. There are in the web several resources of complete and semi-complete versions
Falconer's New Universal Dictionary of the Marine:
1815 Edition
by William Falconer, 1732 - 11769
An universal dictionary of the marine: or, A copious explanation of the technical terms and phrases employed in the construction, equipment, furniture, machinery, movements, and military operations of a ship
Publication date 1780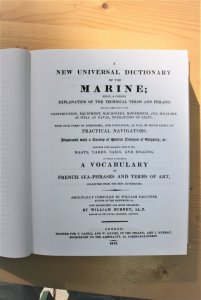 Hardcover: 900 pages
Publisher: Naval Inst Pr (September 15, 2006)
Language: English
ISBN-10: 1861762046
ISBN-13: 978-1861762047
Product Dimensions: 8.5 x 2.2 x 10.5 inches
Shipping Weight: 4.9 pounds
Synopsis:
William Falconer first published his Marine Dictionary in 1769, and it obviously filled a need because it was not merely reprinted but was actively revised on numerous occasions in the last decades of the eighteenth century. Its alphabetical format provided not just succinct definitions of maritime terminology but detailed, and sometimes tabular data on many technical aspects of shipbuilding, fitting and armament, not to mention the Royal Navy's administrative and operational practices. Historians and modern enthusiasts for the age of sail have always been aware of the reference value of the work and by far the most desirable edition is the fourth, of 1815, as revised and greatly expanded by the naval historian and antiquarian William Burney. Because of the time it took for information to trickle down, earlier editions tend to be out of date when published, but Burney (who had good Admiralty contacts) contrived to get dimensions, tables and establishments actually used by the Navy of his day. This makes it a prime source for technical details during the classic age of Nelson. A couple of limited-run reprints were produced in the last century, but these are long out of print, and needless to say original editions fetch astronomical prices. Therefore, anyone with a more than passing interest in the ships or navies of the great French wars will welcome the publication of this high quality reprint of the 1815 edition.
Review / Comment:
This is the ultimate refrence work for all those terms that one finds when reading about ships of the late 18th and early 19th centuries and was originally intended for the ship builders and sailors of that time as a refrence to their trade. It is an exact copy of the original 1815 edition so there no modern additives and is printed in the same style smudges and all. I purchased this book because I have found that it is refered to as a source refrence in many of the other books I have on ships of this period and I can now see why. The information is extensive and the book has a size to match. I highly recommend this work for all period ship modellers.

copied from amazon.com
Here one link for a
free online version
:
http://southseas.nla.gov.au/refs/falc/title.html