Admin
Staff member
Administrative
Blandford Group Build
Joined

Dec 25, 2017
Messages

8,753
Points

728

Location
Book Review:
FIGHTING SHIPS 1750-1850
by Sam Willis
Hardcover: 224 pages
Publisher: Quercus; 1st Ed. (U.K.) edition (25 Oct. 2007)
Language: English
ISBN-10: 9781847241719
ISBN-13: 978-1847241719
ASIN: 1847241719
Product Dimensions:

36.6 x 2.6 x 43.8 cm / 3,7 kg
About the Author
Dr Sam Willis is one of the world's leading authorities on the sailing navy and was awarded a PhD in Naval History for his thesis on Command and Tactics in the 18th-century Navy. He is an Honorary Fellow at the University of Exeter's Centre for Maritime Historical Studies and a Fellow of the Royal Historical Society. Sam was presenter of the BBC series Shipwrecks and has consulted on maritime painting for Christie's and the BBC, spending 18 months as a Square Rig Able Seaman, sailing the tall ships used in the Hornblower television series and Channel 4's award-winning film Shackleton. He is the author of several critically acclaimed books including the bestselling 'Hearts of Oak' Trilogy.
www.sam-willis.com
.
N. A. M. Rodger is Professor of Naval History at the University of Exeter. He is the author of numerous books including The Wooden World, The Admiralty, The Safeguard of the Sea and Command of the Ocean.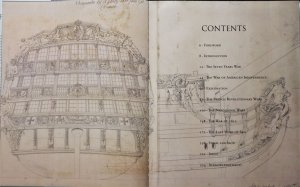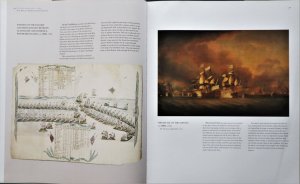 SYNOPSIS:
This stunning collection of over 170 large-format colour illustrations includes paintings of ships at sea, in action, in convoy, and in siege; architectural drawings; battle diagrams; sea charts and signals; portraits of leading figures in naval history; and details of guns, sails, and life below deck. Taken from contemporary sources, they range from the Seven Years' War to the American Civil War. The book focuses on the navies of all the major Atlantic sea powers of the time, including Britain, America, France, Holland, Sweden and Russia. Arranged in chronological order, each illustration is accompanied by an extended caption that adds to this visual feast a compelling history of naval warfare in the last great age of sail. This volume is divided into eight chapters: The Seven Years' War 1755-62 The Napoleonic Wars 1803-15 The War of American Independence 1775-1783 The War of 1812 The Years of Exploration c.1770-1794 The Last Days of Sail The French Revolutionary Wars 1792-1802 Steam and Iron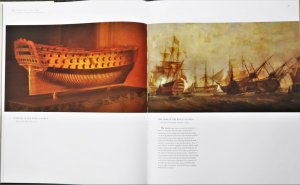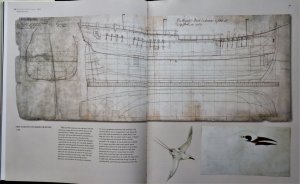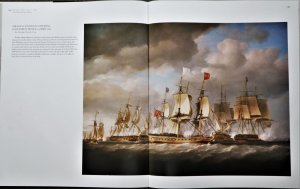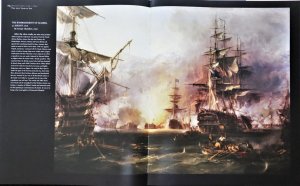 Comment:
A period of 100 years is so long, that no book can show every aspect. This book is a beautiful overview of the era of sailing warships.
Contemporary paintings and drawings, presented in oversize. So more details as usual are visible.
A very good and impressive coffee table book.
To get a feeling for the size of this book:
In the next post you will find
FIGHTING SHIPS 1850 - 1950