Administrator
Staff member
Administrator
Joined

Dec 25, 2017
Messages

17,585
Points

938

Location
Book Review:
SAILING WARSHIPS OF THE US NAVY
by Donald L. Canney
Hardcover: 224 pages
Publisher: Naval Inst Pr; 1st Edition edition (March 1, 2002)
Language: English
Product Dimensions: 10 x 0.8 x 11.8 inches
Shipping Weight: 2.8 pounds
Synopsis:
Although the U.S. Navy was a relatively small force during the Age of Sail, the radical thinking and innovative design of its warships impressed larger maritime powers. Until now, however, information about these ships has come from the works of Howard Chapelle, a practical naval architect and amateur historian whose drawings were impeccable but whose information was often inadequately documented. This large-format volume by an American ship authority is the first to look critically at Chapelle's findings and compare them with rare original drafts, many published here for the first time, contemporary paintings, prints, and important documents such as the building specifications for the USS Constitution.
The main chapters are devoted to the major ship types, from ships of the line to brigs and schooners, as well as vessels of the Great Lakes. More than 125 half-tones, plans, and drawings accompany the text. Appendixes deal with gunboats, galleys, and revenue cutters. This fresh perspective on the American sailing Navy is a must for any Age-of-Sail bookshelf.
About the Author (taken from the cover):
Donald L. Canney is the author of four well received books on technical aspects of American naval history:
The Old Steam Navy, Vol. I, Frigates, Sloops and Gunboats 1815-1885
, published in 1990
The Old Steam Navy, Vol. II, The Ironclads, 1842-1885
(1993)
US Coast Guard and Revenue Cutters, 1790-1935
(1995)
Lincoln´s Navy: The Ships, Men and Organization 1861-65
(1998).
Donald specialises in the historical development of the nineteenth century American naval vessel and, in particular, the transition from sail to steam.
Besdies the books, his articles have appeared in Naval History, Warship, Naval Institute Proceedings, and he has produced historical publications for the US Coast Guard.
He is a veteran of the US Air Force and a former high school history teacher. He is presently the registrar of collections for the US Coast Guard museum program, and resides in the Washington DC area.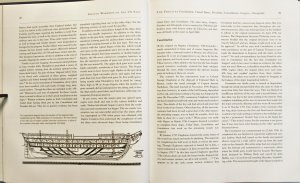 Contents:
Preface and Acknowledgements / Introduction
Chapter 1: Navy-Built Ships of the American Revolution
Chapter 2: The Frigates Constitution, United States, President, Constallation, Congress, Chesapeake
Chapter 3: Subscription, Navy.Built and Captured Frigates, 1798-1815
Essex – Philadelphia – New York – Boston – John Adams – Adams – General Greene – Insurgent – Macedonian – Cyane – Guerriere – Java
Chapter 4: The "Gradual Increase" Frigates, 1816-1861
Brandywine – Potomac – Columbia – Raritan – Savannah – Cumberland – St Lawrence – Sabine and Santee – Hudson – Macedonian – Congress
Chapter 5: The Ships of the Line
Franklin – Independence – Washington – Columbus – Ohio – North Carolina – Delaware – Vermont
and
New Hampshire – Virginia
and
New York – Pennsylvania
– The First American Battle Fleet
Chapter 6: The Sloops of War, 1798-1831
Merrimack – Maryland
and
Patapsco – Portsmouth – Trumbull – Connecticut – Warren – Hornet
and
Wasp – Ontario – Erie – Argus – Wasp – Frolic – Peacock –
Boston Class 1825 – Barker´s Falmouth – Doughty´s
Lexington, Warren
and
Natches
– The Humphrey´s design
Chapter 7: American Sloops of War, 1837-1855
Cyane
and
Levant
–
Dale
class 1838 –
Saratoga – Albany – Portsmouth – Jamestown – Germantown – Plymouth – St Mary´s – Constellation
Chapter 8: Brigs and Schooners, 1798-1843
Revenue Cutters
– Pickney – Enterprise – Argus – Syren – Vixen – Nautilus – Chippewa – Boxer – Saranac – Grampus – Alligator – Shark – Porpoise – Dolphin – Experiment – Fairfield – Independence – Perry – Bainbridge – Somers – Lawrence
and others
Chapter 9: Vessels on the Northern Lakes
Lake Ontario – Lake Erie – Lake Champlain
Appendices:
Appendix A: Galleys
Appendix B: The Jefferson Gunboats
Appendix C: Revenue Cutters
Appendix D: Ship Construction, Dimensions and Service
Appendix E: Dimensions and Sizes of Materials for Building a Frigate of Forty-four Guns
Notes / Bibliography / Index
Review / Comments:
Review at amazon by Bruce Trinque in 2003
In his preface to "Sailing Warships of the US Navy" author Donald Canney pays tribute to Howard Chapelle's "The History of the American Sailing Navy", but also notes the limitations of that classic work in its failure to meet the standards of modern historical research by inadequately documenting source citations and, sometimes, in poorly evaluating primary sources. Canney explains that he does not seek to replace, but to complement Chapelle's book with its meticulously executed ships' plans. And Canney well succeeds in this goal.
All of the ships built for the American navy before the era of steam are covered, most of them in considerable detail, showing the original lines plans where available (it should be noted that due to the age and physical condition of these plans, some lack clear detail). These are supplemented by paintings and, especially for the vessels built after the early 19th Century, photographs. Special attention is given to design and construction considerations, although the full career and ultimate fate of each vessel are summarized. Furthermore, in the course of discussing the individual ships, Canney develops a more general history of design trends and employment.
While Paul Silverstone's "The Sailing Navy, 1775-1854" is a useful quick reference to the ships of this era, Canney's book provides a much greater in-depth look. "Sailing Warships of the US Navy" does not mean that Chapelle's history is obsolete, but you should make a space on the bookshelf next to it for Canney's volume.
Due to the fact, that this Review is saying everything - I can only add -> Highly recommended and better than the Chapelle !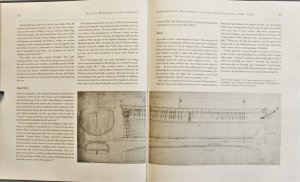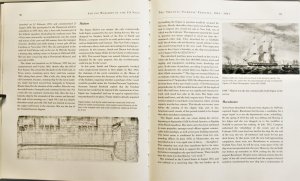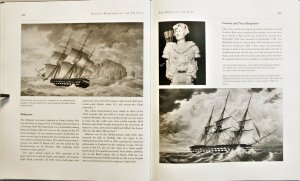 More Look Inside photos you can find in the following post