Administrator
Staff member
Administrator
Joined

Dec 25, 2017
Messages

25,080
Points

1,138

Location
Book Review:

The Marine Art of GEOFF HUNT


Master Painter of the Naval World of Nelson and Patrick O'Brian

by Geoff Hunt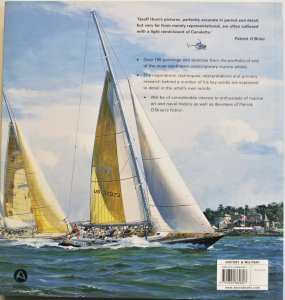 Series: Maritime
Paperback: 144 pages
Publisher: Mystic Seaport Museum (August 1, 2008)
Language: English
Product Dimensions: 11.1 x 0.5 x 11.8 inches, 29.9 x 28 cm,
Shipping Weight: 2.2 pounds, 1.360g
Synopsis:
Geoff Hunt is known to millions of readers across the world as the artist responsible for the covers of Patrick O'Brian's Aubrey-Maturin novels, and more recently for those of Julian Stockwin's Thomas Kydd books. He is widely acknowledged to be one of the leading marine artists of his generation.
More than a showcase of the versatility and creativity of his work, this book, written by the artist himself, also reveals its accuracy, through five key case studies that explain the initial inspirations, gathering of source material and often lengthy artistic progression that leads to the creation of a finished painting. The artist has selected over 150 paintings and sketches to illustrate his prolific career, painting techniques and influences, dividing them into sections on Nelson's Navy, The American War of Independence, illustrating the naval writers and the Modern Maritime Scene, which includes recent commissions from the commercial sector and yachting community.
This title covers the artist's inspirations, techniques, interpretations and primary research. It features over 150 paintings and sketches faithfully reproduced on high quality paper.
It is suitable for Patrick O'Brian fans, as well as enthusiasts of marine art and history. It is presented with an introduction by art historian, David Cordingly.
HMS Victory races HMS Temeraire
About the author and artist:
https://en.wikipedia.org/wiki/Geoff_Hunt_(marine_artist)
Contents:
Foreword by Julian Stockwin
A Master of the Fleet by David Cordingly
Rigging and Reason - Inspirations and Influences, Traditions and Techniques
CASE STUDIES
Case Study 1 - Victory races Temeraire for the enemy line
Case Study 2 - Spithead

age
Case Study 3 - Dispatches for Admiral Thornton
Case Study IV - HMS Victory leaving Agincourt Sound
Case Study V - Launching Day, USS America
THE PLATES
Nelson´s Navy
The American Revolutionary War and the War of 1812
Illustrating the Naval Writers
The Modern Maritime Scene
Bibliography, Index
Review:
This book contains dozens of prints of his most beautiful paintings, which in many cases are complete with earlier versions from line drawings to colour sketches. There are many descriptions of how the paintings came to be created, from who commissioned each one to the ideas the artist had about how to execute the commission and how he turned it real. To see all the details in Geoffs paintings the format is too small, but he explains in detail how is working from the beginning of research up to the final painting.
This book is very accessible and the prints are large and well done. The text is written by Geoff Hunt; while reading, it felt like I was in a conversation with him about his work. I am not knowledgeable about art and I found his conversations about how he approaches a painting, illustrated with sketches and preliminary studies, to be informative and enjoyable to read. It certainly works well also as good O'Brian background material, with the prints of book covers, other works focused on "Nelson's Navy" and reports of dialogues between Hunt and O'Brian. If you buy it, pick it up and read it; don't just set it on the coffee table for your guests.
If you like these kind of paintings -
It is beautiful book and a lot of value for the money
Spithead

age, ships and vessels of Captain Aubrey´s Navy
left side: HMS Active and HMS Seahorse at Agincourt Sound, chart of anchorage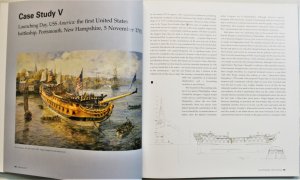 Lauchning of USS America, the first United States battleship, Portsmouth, New Hampshire, 5 November 1782
left side: HMS Boreas in West Indies, march 1887
right side: HMS Agamemnon opens fire on the Ca Ira, 13 March 1795
left side: HMS Captain entering Portoferraio, 10 July 1796
right side: HMS Vanguard in heavy weather off Toulon, 19 May 1798
More Look Inside Photos you can find in the following post......
Last edited: