Administrator
Staff member
Administrator
Joined

Dec 25, 2017
Messages

17,585
Points

938

Location
Book Review:
Warrior to Dreadnought:
Warship Development, 1860-1905
By D.K. Brown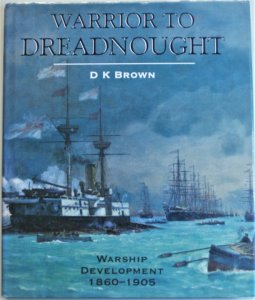 Paperback: 224 pages
Publisher: Naval Institute Press; Reprint edition (January 15, 2011) or Chatham Publications or Caxton Editions (2004)
Language: English
Product Dimensions: 8.5 x 0.5 x 10 inches
Shipping Weight: 1.8 pounds
Synopsis:
In the 50 years that separated HMS
Warrior
from
Dreadnought
there was a revolution in warship design unparalleled in naval history. It was a period that began with the fully rigged broadside ironclads and ended with the emergence of the great battleships and battle cruisers of World War I. Noted naval historian D.K. Brown explains how the Victorian Royal Navy, far from being the reactionary body it is often depicted to be, was, in fact, at the forefront of technological change.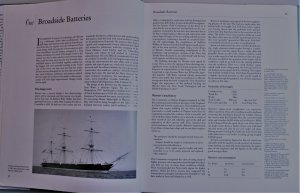 About the Author:
D.K. Brown was a distinguished naval architect who retired in 1988 as Deputy Chief Architect of the Royal Corps of Naval Constructors. He published widely on the subject of warship design and built a reputation as a clear and brilliant commentator on the development of the ships of the Royal Navy. He died in 2008.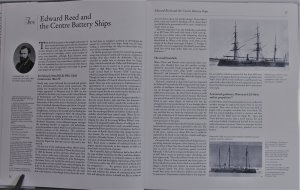 Contents:
1) Broadside Batteries
2) Edward Reed and the Centre Battery Ships
3) Turrets and Capsize
4) "The Ship is a Steam Being"
5) Steel for Ships, Armour, Engines and Guns
6) The "Admirals"
7) Cruisers and Smaller Craft
8) White and the
Royal Sovereigns
9) A
Majestic
Fleet, 1893 - 1904
10) Proved in Battle
11)
Dreadnought
, a Ship whose Time had Come
12) Achievement
Appendices:
1) Naval Estimates - New Construction
2) Law of the Sea
3) The Use of the Admirality Coefficient (Ad Cft)
4) Stability and Capsize
5) Rolling
6) The Loading and Strength of Ships
7) Freeboard
8) Subdivision and Bulkheads in Merchant Ships
9) Costs of Naval Defence Act Ships
Review:
It is a perfect study of the warship design of the british navy in this period. Brown retired from the Royal Corps of Naval Constructors as Deputy Chief Naval Architect in 1988 and is hugely qualified as well as deeply interested in history. This was a period of tremendous change, from wood to steal, from sail to steam, and from experienced-based guesswork to mathematical calculation in design. The work is lavishly illustrated. This book is highly technical and not something you just read like a novel. Each chapter is pretty interesting, even for the amateur, and it makes a great book to flip through and fall into from time to time. But be aware: there is the main focus on the british development, f.e. other navies you will not find much or nothing. Highly recommended.