Since it is 4th of July and America's birthday, I thought I would post a short build log of a Chinese Sky Lantern. We typically fly these on July 4th and New Year's. I have had a huge stack of these laying around for years. I believe the company Creatov is no longer around but you can easily purchase these from many, many places both online and in retail stores. Just google for "Sky Lanterns". Beware though, just like fireworks they might be restricted or banned depending on where you live and you want safe-use practices when using them.
Chinese Sky Lanterns go back thousands of years and are basically miniature hot air balloons that use a small wax candle to create the heat for lift as well as to illuminate the lantern. The sky lantern will rise several hundred feet into the air. Once the candle burns out the tissue paper and frame falls to the ground. Seen from a distance these lanterns can sometimes be mistaken for stars, aircraft, or even UFO's.
Here is the Wiki article:
I plan to assemble a couple of these for launching tonight out on our farm. This will be my build log. Enjoy.
Also, please feel free to share any hobby related, fireworks festivities you have planned for tonight!!!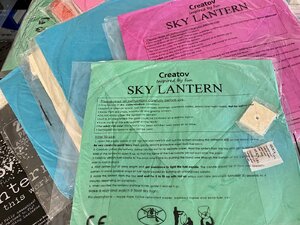 Last edited: