Well, this is the other ship which I am working on (and, as such, the guilty one why I am not proceeding that much with SoS) - but I enjoy it. The ship's hull had been done quite a while ago and now it has to be finished. The state of the ship as I started working on it is shown on the first photo - hull ready up to the main deck, still in the Hahn jig. Frames and nearly everything else is done of Costelo Boxwood (the best quality I have seen to date), wales , aft etc. Ebony (again, beautiful quality). Hull planking as well as deck planks are dowelled with 0.6mm Costelo dowels.
I started with the completion of the inside planking (Swiss Pear).
The hull is still in the Hahn jig. I put a cover onto the false keel which is Ebony and as such, very vulnerable.
The gun barrels were a bit of disaster. First I made a Boxwood master, heat resistant silicone mould and cast them in Pewter. Well, came out very ugly. The I decided that I will turn the individually from brass - at the second stage with the help of the duplicator which has already been written about. So brass, blackening (did not come out very well), flat black acrylic and then a graphite powder bath. And then come the small details, carriage, trucks, quoion, blocks, rigging - close to 50 pieces per gun.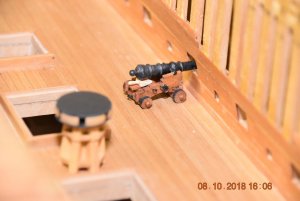 The first trial to check carriage heights. The capstan is made too.
The hull had been cut out of the jig. It looks like a ship now.
The rough rudder, pintles and gudgeons before blackening.
Odds and sodds for future installation.
Figure head nearly finished.
The rudder is installed.
Gunport lid installed. Its material is exactly the same as the hull planking, but the latter had been exposed to light for more than 2 decades, hence the difference in colours.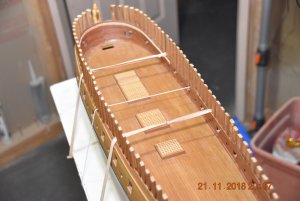 The gratings are also made of Costello with the conventional 'comb' method on the circular saw.
The bowsprit is made but not glued in yet. Hahn did not include masting / rigging plans to Oliver, so following Dave's advice I am using Rattlesnake's plans for it.
This is the current state before the fore castle's beams and planking will be installed - and everything underneath covered. So better have a few pictures about it!
Janos