Moderator
Staff member
Moderator
Sponsor
Joined

Dec 1, 2016
Messages

2,442
Points

528

these little steam powered engines were called "doctors" because they were used for different tasks on a steam powered river boat or in a factory.
This one was used on the ironclad Cairo and it was used to pump water into the boilers
when I do a 3D drawing I will use autocad for the 2D drawing of the parts then I take that DXF file into a 3D program like Turbocad or Sketchup
All three of these programs will interchange the same drawing.
All my drawings are done in the scale of the model, doing a drawing in full scale creates to big of a file and slows down the regeneration and rendering. There is no need to draw so big because no matter how far you zoom in the drawing the lines look the same and not like zooming in on say a JPEG image where the image breaks up into pixels.
I can also take each part and create a separate file then assemble all the parts into one final drawing.
The concept here is to create a 3D model and animate it so all the moving parts will move. Then I will have the parts printed and build a working model of the engine. Once I have the pump engine done then I will move on to the 2 engines that turned the paddle wheel. Rather than steam the model will run on a simple small air pump used for fish tanks.
First I trace the part then use that tracing and refine it and add details.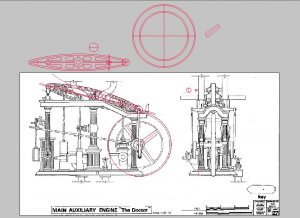 .
here I did not need to trace and draw the base all I had to do was take measurements from the master cad drawing. The side of the base has a nice molded edge so that I did in the 3D program
next I added the base plates that the pillars will sit on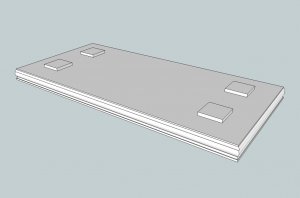 Last edited: