Finally, I have all the upper deck framing done and I can now move on to deck planking 1/2 the deck. The black strips are water-color type paper stock that I used a sharpie to make black. It serves well for caulking.
The black strips are .48mm thick. At this scale in real life, it might be just a little over .5 inches width of caulking. I am not going to split hairs - it is good enough.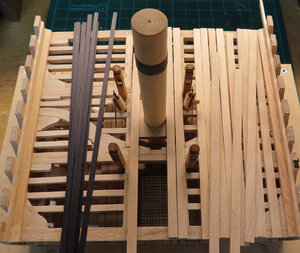 ​
Great progress, Donnie! Looks good!
thank you Doc and Shota. I appreciate the thumbs up.

Donnie
Thank you all. I was able to make a lot of progress and I apologize for not giving more details on my build. But just in hurry to finish.

One big mistake. I decided to plank the deck starting in the center rather than at the waterways - which threw things off a bit. But the Cannon Carriages should hide the defects - the caulking is a little too thick on the waterways side. Arggg !!

Oh well.

Donnie

Joined

Jul 28, 2014
Messages

700
Points

198
Location
Hi Donnie, I noticed that on your lower deck you used a wider king plank but on your top deck you used a plank the same width as the other upper deck planks. Perhaps by using a wider king plank you would have eliminated the thin wedge plank against the waterway.
Joined

Feb 11, 2020
Messages

1,474
Points

383

Location
Donnie just remember this is a training build for most of us so minor errors are acceptable!

Helps us learn what to do better on the next build!

Just glad to see you have time to work on your projects again!
Starting the Wales. I am trying some India Ink to blacken the wales. I am using Basswood which is NOT a good thing. I should be using boxwood, but I have run out and at this time I have to just use what I have. The boxwood would probably produce a more realistic ebony color, so, perhaps if I go back and sand the finished Wales with 1000 grit sandpaper, maybe I can achieve what I am trying to do.
Maybe the treenailing will offer more pleasing finish touches.


Administrator
Staff member
Administrator
Joined

Dec 25, 2017
Messages

13,405
Points

938

Location
Looking very good - especially with the contrast of the brass nails.
One question related to the Hook and Butt joint - is it a "fake"-joint, so only on the surface? It is looking very good and very accurate! Very good, so maybe you explain shortly how you did it.......
Very nice job on the wales, Donnie!