I have never maintained a build log of the Models I have built, but since this is, what I will consider, my first attempt to build a plank on bulkhead model I would give it a go, though the intervals between posts may span longer than expected periods of time.
I will post pictures of the different stages of assembly and will probably ask a lot of questions as things get more gnarly from my own perspective.
As far as tools, I bought an X-Acto knife set that came with a plane, jigsaw and sanding block. I now have wood glue and super glue at the ready. What I don't have is contact cement that I saw should be considered for some steps, if anyone can suggest one, I would be greatly appreciative.
To date, I have read through the instruction book at least 4 times and Step 1 at least twice. Following other modelers who built the Enterprise I have followed their lead and constructed a jig to hold the false keel and bulkheads. The image is of the completed stand with the false keel fastened to it and the bulkheads in place, not yet glued in place since I need to make another jig to ensure the bulkheads are perfectly perpendicular to the false keel. I will then add the mast wedges and beam.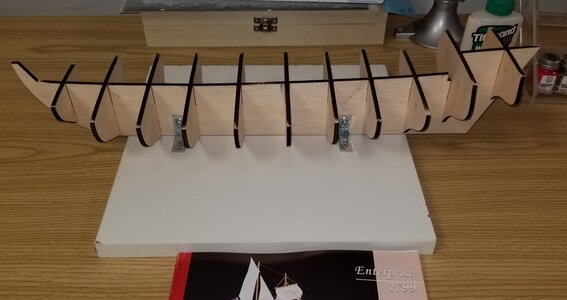 ​