Joined

Jun 20, 2020
Messages

590
Points

353
Location
Hi guys,
I looked over my latest kit and thought Id give you a look see what you get when you buy the Falkonet kit of the Jolly Boat.
Everything is so perfectly cut yet so tiny. I find it hard to believe they can make wooden parts so small but
@mrshanks
has
schooled me some on the intricate work that goes into and can be created with modern equipment. I still personally find the
quality and percission absolutely amazing.
In the plastic sleve for the kit you find no less than 6 laser cut sheets although they are very small. I dunno about the oars, my
gorilla hands might just murder them all trying to build it. They are sooo incredably small but they sure look like oars. One of the
sheets appears to be a building jig to line all the frames to the keel, I've never done anything like that..... yet. I also find all the planks
have been lazer cut to fit the frame, no bending then cutting to fit. I think thats the approach of the future, planking has always been
my nemisis with ships. I have 3 wrecks in the basement to prove it! You also get a brass strip for making rudder hinges, and a small bit
of brass wire. The parts that sold me on the kit are the figurines though. They are very small but well detailed in resin. The whole
Victorian Era idea of a young suiter rowing a boat with his lady for a leasurely sunday picknic just captured my imagination.
Ok, enough of me flapping my gums, now I present phtos for your viewing pleasure: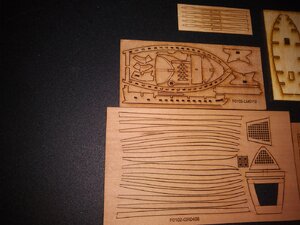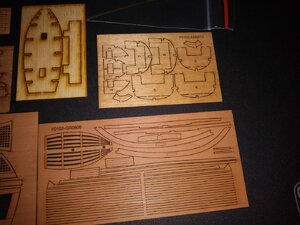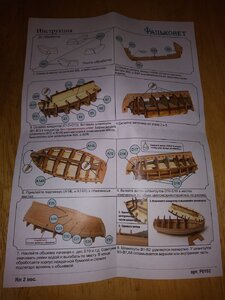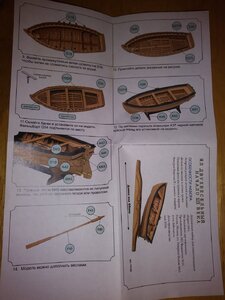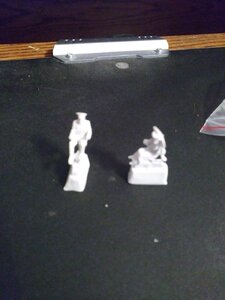 The instructions and parts list are in Russian only but look easy enough to figure out. I do hope Falkonet will begin making the documents in
other languages too in the future.
I havent any plans of when to build this yet but I would love to see it completed sometime soon.
Thanks for looking in,
Clair