After a wish from Jimsky, I try to write a short build blog about the French cutter Le Cerf, which I have built a few years ago and published then at Model Ship World forum. Unfortunately I don`t have any more all the pictures of the building process, and don`t necessarily remember how and in which order I made the model, but I try to write as much as I remember.
In the beginning of 2016 after having finished my previous project I was thinking what to build next. I was searching from Internet all possible vendors of drawing packages for relatively simple but still attractive models with few masts, not so complicated rigging and a number of guns. Soon I found French Ancre, who is offering very nice documentation packages for interesting ships, and quite soon I found the cutter Le Cerf which fullfilled my needs nicely and was not very expensive, so I placed my order for an english language documentation package:
The package arrived in a few days waiting, and after having searched what it included I found that there was a long story about the ship and it`s history & 12 sheets of nicely drawn plans, so it was quite easy to start building.
As always, first I was preparing a building board which is straight and sturdy enough, and this time I selected a piece of a very old bookshelf to be my building base. On that board I was installing some brackets for the keel to keep it straight, and having the possibility to fasten the hull also upside down to be able to make both the hull and deck planking:
The next step was to start making the bulkheads. Drawing was placed on a self made light box, and on that box it is possible to draw all the half bulkheads on paper by seeing through the paper. When they were all drawn, they were glued onto thicker cardboard, and templates for full bulkheads were cut away and drawn on 12 mm thick balsa plywood from which material the final bulkheads were sawn with a bandsaw. Unfortunately I have no pictures left of the bulkheads, but here is the process of making the templates for them: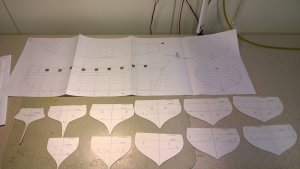 To be continued.....