Administrator
Staff member
Administrator
Joined

Dec 25, 2017
Messages

21,832
Points

1,038

Location
Book Review:
Glasgow Museums THE SHIP MODELS
A History and Complete Illustrate Catalogue
by Emily Malcolm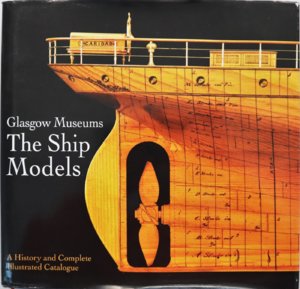 Hardcover: 374 pages
Publisher: Seaforth Publishing; Illustrated edition (5 Nov. 2019)
Language: English
ISBN-10: 1526757524
ISBN-13: 978-1526757524
Product Dimensions: 28.6 x 3.8 x 27.3 cm
SYNOPSIS:
This publication will be the first full catalog of Glasgow Museums' internationally important collection of ship models.
Almost all of the 676 models, which range from elegant cruise liners to humble Clyde puffers, and from simple half-hull design models to magnificent display models, were produced by Clyde shipyards or Glasgow-based ship owners. It is the representation of models from such a distinct geographical area, together with the quality of the models, which makes this collection so exceptional. As well as general chapters about the collection, each of the 676 models have a description and color photograph.
Some of the most famous ships launched on the Clyde are represented, such as RMS
Queen Elizabeth and HMS Hood, as well models of historically significant vessels such as the first European passenger steamer Comet and the world's first commercial turbine-powered vessel King Edward.
A stunning collection of photographs complements newly researched and in-depth chapters. The book will give readers worldwide a chance to see images of the models, a sense of the breadth and importance of the collection and a deepened understanding of the whole history of the ship.
EMILY MALCOLM has been curator of Glasgow Museums' Ship Model collection since 2003. She has a wide-ranging interest in maritime collections in museums and a particular enthusiasm for ship models and modelmaking.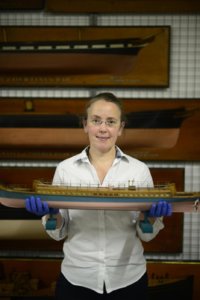 Content:
Foreword by John R Hume, Director´s Foreword, Acknowledgements
Introduction
Chapter 1 – Models in Shipbuilding
Chapter 2 – Professional Model Making
Chapter 3 – Amateur Models
Chapter 4 – Ship Models and Exhibitions
Chapter 5 – Building the Collection
Catalogue of Ship Models
Introduction to the Catalogue of Ship Models
Chapter Notes, Index, Supporters,
Picture credits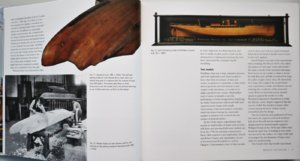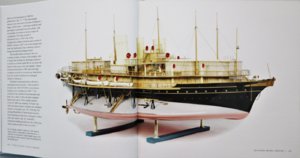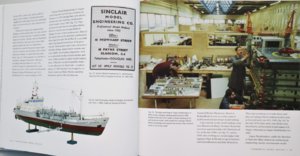 Comment:
Published in a glossy coffee table book format, beautifully crafted book divided into two parts of roughly the same size with each appr. 150 pages
The first deals with the use of ship models in shipbuilding and their constructors (model makers). Small passage on the models intended for hydrodynamic tests.
The second contains the complete photographic catalog of museum models (650 models). Each photograph includes a very short notice.
It is informative on the subject, but limited to the museum and to constructions on the Clyde
I would have preferred more developed and more didactic notes. Some models would have deserved additional photos. In addition the models prior to 1850 are few. Finally, many models are half-hulls of ships without much interest and whose rendering in illustration is ... quite flat. These "faults" are the only consideration for completeness.
Nevertheless, a good work for enthusiasts, especially interested in ships of the Clyde.
A book full of excellent content but severely let down
by poor binding
and cover quality. not understandable for such a heavy book.
Binding is already coming unstuck, inner cover pages have come unglued.
Further information:
Article:
CURATOR Emily Malcolm leads the way through a rabbit warren of corridors at the Glasgow Museums Resource Centre. The facility, on the south side of…
www.heraldscotland.com
More Look Inside photos: