Joined

Mar 31, 2017
Messages

1,508
Points

538

Location
Hello Ship Mates
I am about to start an Elizabethan Galleon, from the plans that I purchased from The Model Dockyard in Cornwall, UK. These are a set of Harold A Underhill's plans and are of no pacific ship but a set of very general Galleons. I believe that I will build this little ship in the line of the Golden Hind. As normal for me, I will not be trying to build an authentic replica of the real Golden Hind but that of an English Galleon in the times of Queen Elizabeth.
I have barely touched on the perimetry start of this build. So far top day I have scanned and printed the keel and hull forms. Now they must all be cut out and matted with their appropriate other halves and then taped together, not a big job but very time-consuming.
I will be trying to add around 12 LED Lights to this build, both on deck and below deck and in the ships holes. A first for me and I have been searching the web for a lot of information on these LED Lights, so it kind of looks like this will be a build in its self.
My Admiral Bernadette has eyed up the sails and she has very generously volunteered her services to sew me up a set.
I just got a letter from Alen who is from Northern England, who visited the Golden Hinde a few years ago saying that this replica is named the Golden Hinde and not the Golden Hind as I have previously named her. It seems that both spellings are correct, however since my Great Grand Father was named Captain Angus Hines a sea-faring Captain from Nova Scotia in the early 1900ths, I will rename my ship the Golden Hinde as it is much closer to his name
I will add a few pictures below of my plans for the new build the Golden Hind, ENJOY.
Regards Lawrence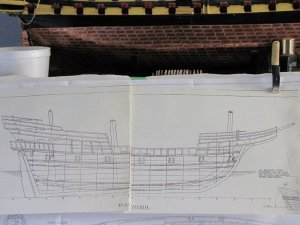 Last edited: