Joined

Aug 11, 2017
Messages

59
Points

103
Location
I started this build in August of 2017 and had a build log on Blogger, but the app I used no longer works so I am transferring the log here--plus seems like a nice community
. I have a few post to catch up with, so I will add a post or two a day until I catch up. I lost some pics of my phone of some of the work, so there will be jumps.
I chose this kit for a few reasons. First, I like the French ships. Second (and perhaps most important) my wife like how it looks. Third, I was on the Lafayette class of boats, so that was part of the decision, sea stories of use-ta-fish are always fun. Even though the original Hermione meet her fate grounding, she did participate in some naval battles and did bring Lafayette to the colonies during the revolution.
I am a bit particular with inventory and sorting, so I spent the better part of the weekend going though the kit. Right off the bat--I am no fan of anything on a DVD, Blue-Ray, Thumb Drive, and so on that requires me to make it--I want paper to spill coffee on, write on, lose and have to find, and so on. The kit did come with the full size plans only (on the wall, pic below), but all other documents are on the DVD. Back to my inventory habit, the inventory was not a list, but pictures on a blue background. While it was only 17 pages, I would have preferred a printed inventory with a list and pictures. I am ok with no paper build manual, I don't keep my computer at my work bench, and I would not say that I follow the build directions 100%. The paint colors are on the website, and I do plan on painting. Sail quality are like my my last kit, but I am going though my mind if I want to furl, or just no sails.
A few quirks in the inventory. The capstan or support ribs are wrong size, no big deal to make new ribs. Real picky is that 2 rolls of the black thread is listed at 0.75 but supplied at 0.80--perhaps I should mention that I worked in QA to help pay for my drinking habit while going through college. There was no quantity for the decking (part 17, 110 was my count) and part 167 (3 pieces).
Box Ready to be Unpacked
Packaged quite well
Said Capstan and Ribs
Clean Workbench ready to start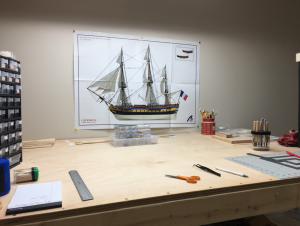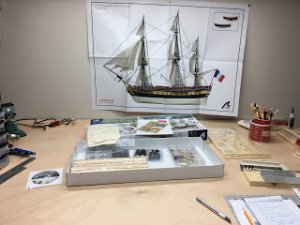 ​