Joined

Oct 23, 2018
Messages

154
Points

143
The action from 17/06/1778 was the first engagement between english and french ships during the American Wars of Independence.
During the battle HMS Alert takes the french lugger Le Coureur. I like to build a small diorama of the two ships during the battle.
I know that Trident and CAF will bring both ships in my favorite scale and much more detailled, but for a small diorama the models are to big.
So I decided to build the diorama with the paper models Shipyard offered. They have some small mistakes, especially Le Coureur needs some modifictaions, but a dioramaI think that the impression of the small story is much more relevant than ervery small detail of the ship.
I tried two times to build a model from paper without success, so I hope that the third try will much more successfully.
Yesterday I started my project with building the small cutter Alert.
First step was glueing the bulkheads together and painting the edges black.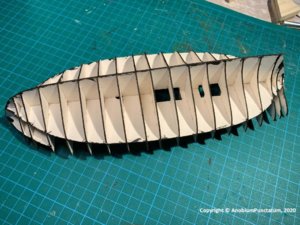 Before I continue withe paper, I decided to fill the space between the frames with basswood to get a smooth hull.
This step will need some days, so you have to be alittle bit patient until I can continue.
Last edited by a moderator: