Joined

Sep 29, 2021
Messages

77
Points

103
Hi Guys. I saw these lovely little kits bought them pretty much immediately. I've not attempted wood kits since the early nineties, and these appealed because of their simple lines and tiny challenging size. Also not needing to buy any specialty tools was, like the Swiss flag, a big plus.
I've completed the Centre section with much enthusiasm and not too much swearing. Great Success!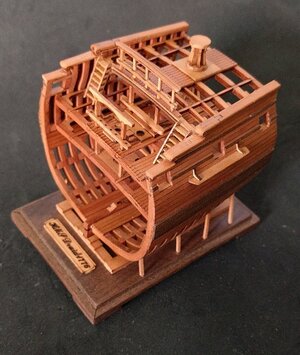 I made a few mistakes, such as facing the frames the wrong way, meaning the guide cuts for the gun ports were inside out. but fixable. I added a Taff rail (?) from scrap and I think if I were to do it again I'd beef up the channels as the look a bit weedy. Sanding off most of the edge charing was a little uhhhmmm... delicate? dangerous? whatevs. I only managed to snap two frames in the process and was able to repair both.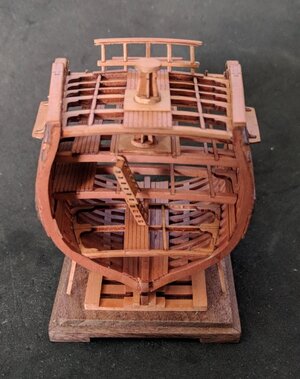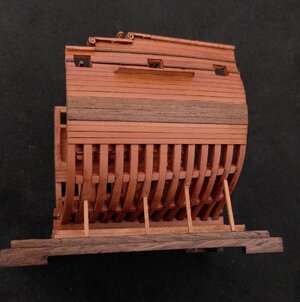 i hope to make a start on the Stern section shortly.... (if I'm not too distracted by the Enterprize stern.....) (Which I may change to Enterprise. 'cos it bugs me).
Last edited: