Joined

Jun 17, 2021
Messages

75
Points

78
Prior to starting my HMS Fly build, I was advised of a potential problem of Cannon Carriage's becoming detached from beneath the poop deck. As a solution I considered three criteria had to be met one, the fixing to the deck had to be invisible. Two, it had to be a 100% positive fix so it will not become detached from the deck. Three, accurate positioning of the carriage's essential.
My solution was to fix each cannon carriage wheel to the deck and a Polyamide beading thread. The attached notes were written in 2016 and illustrate the thread being fitted into the deck using G-S Hypo Cement and a syringe. In retrospect the threads are better glued from beneath the deck with Araldite
As my build of HMS Fly involved incorporating three cabins', I had to develop techniques for modifying the design of the model kit, so I scratch built a duplicate hull to test the methods would work; this hull is seen in these notes. I have also showed how the cap squares are fitted, as it is my intention the Cannon Barrels will all be pivoting…..this is the plan!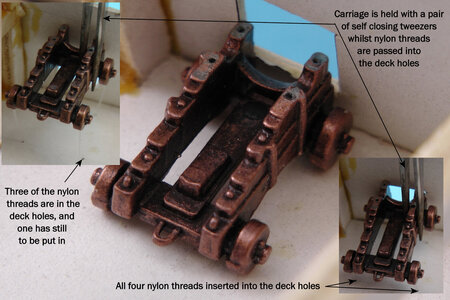 Last edited: