Joined

May 25, 2017
Messages

2,336
Points

538

Location
This is a re posting of a build that I did some years ago, I hope you enjoy it,
I started this build a while ago and had to put it aside due to circumstances, the start of my previous log was lost during the big crash last year, then all my other photos were lost when my own PC crashed, so this log is being started with new photos of where I am at the moment, I am just about finished my build of the Duke of York and I will then be continuing this build log of the HMS Surprise.
When I was given the kit to build, the person who bought it got it off ebay, so there were quite a few things missing, the main things being the plans, also a lot of the wood was'nt there, most of the fittings were there, so here we go.
the first pics show the hull planked and coppered, the copper plates I bought from The Model Dockyard in England.
Head on view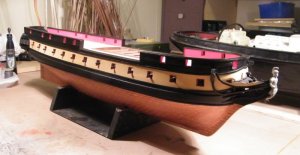 Starboard bow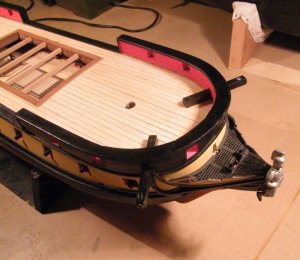 Head gratings
waist view