Administrator
Staff member
Administrator
Joined

Dec 25, 2017
Messages

26,344
Points

1,138

Location
HMS Terror
History
mentioned by Occre:
In 1845, under the command of Sir John A. Franklin, the ships Terror and Erebus set off on an expedition to navigate the famous Northwest Passage. They were the first ships to be fitted out with auxiliary steam engines and were also reinforced with iron plating, fore and aft, to increase their resistance to pack ice. They were stocked with sufficient supplies for 3 years at sea.
The last sighting of the two ships was off Greenland was as they entered Baffin Bay, gateway to the frozen Arctic labyrinth.
With the collaboration of an Inuit hunter from the Arctic hamlet of Gjoa Haven, on 26th September 2016 the wreck of H.M.S. Terror, 168 years after her disappearance, was finally discovered. The Terror was in excellent condition. Images have been obtained of her deck and interior, showing perfectly preserved objects and parts of the ship that remained intact.
The mystery of the Franklin's tragic expedition continues to this day, although it is hoped that an archaeological study of the wreck will help shed some light on what happened.
** Model based on the plans of Matthew Betts.
Take a look at the very interesting page:
http://buildingterror.blogspot.ca/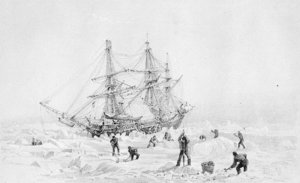 and on Wikipedia:


HMS Terror
was a specialized warship and a newly developed Vesuvius-class
bomb vessel
constructed for the
Royal Navy
in 1813. She participated in several battles of the
War of 1812
, including the
Battle of Baltimore
with the bombardment of
Fort McHenry
. She was converted into a polar exploration ship two decades later, and participated in
George Back
's Arctic expedition of 1836–1837, the
Ross expedition
of 1839 to 1843, and
Sir John Franklin
's
ill-fated attempt
to force the
Northwest Passage
in 1845, during which she was lost with all hands along with
HMS Erebus
.
On 12 September 2016, the
Arctic Research Foundation
announced that the wreck of
Terror
had been found in
Nunavut
's
Terror Bay
, off the southwest coast of
King William Island
. The wreck was discovered 92 km (57 mi) south of the location where the ship was reported abandoned, and some 50 km (31 mi) from the wreck of HMS
Erebus
, discovered in 2014.
Arctic Ghost Ship | HMS Terror and Erebus | Franklin Expedition (Nova Ghost Documentary)
The finished model from Occre: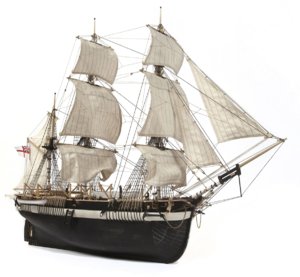 The Model KIT from Occre:
Specifications:
Length: 676mm.
Height: 504mm.
Width: 195mm.
Scale: 1:75
Occre Ref: 12004
very often the model scale is mentioned with 1:65, which is a wrong scale information.
The correct scale of this model is
1:75
The kit is available directly from Occre for a very reasonable price of 119,95 Euro
The same model "out of the box" without colors or other paintings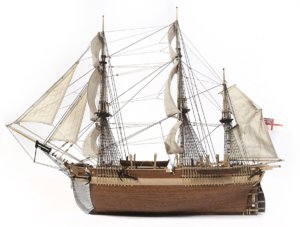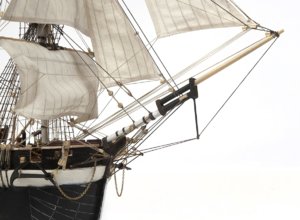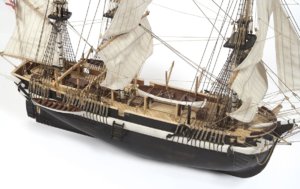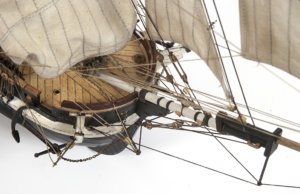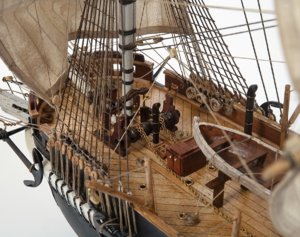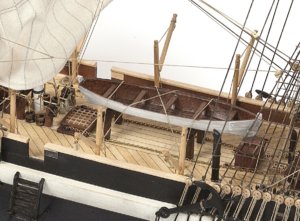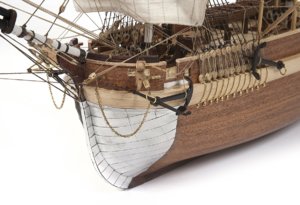 In order to get a overall impression, take also a look at the model shown in an Occre-video:
In the following posts we will show you the kit more in detail......