Joined

Mar 20, 2013
Messages

186
Points

103
Location
HMS Vanguard 1787
3rd Rate Arrogant Class 74 gun Ship of the Line
​
Nelson's Flagship at the Nile, HMS Vanguard was the fifth naval vessel to bear the name, the first was an Elizabethan galleon carrying 32 guns launched at Woolwich in 1586. This vessel played a considerable role in the defeat of the Spanish Armada in 1588. She was rebuilt on two occasions; at Chatham in 1615 and at Woolwich in 1631, receiving the very latest armament during her rebuilds (in much the same way that modem warships are periodically treated to technological upgrades).In 1667 she was sunk to be used as a blockship at Rochester to bar the Dutch from entering the Medway.
The second vessel to bear the name was a 90 gun ship built in Portsmouth in 1678. She capsized in the Medway in 1703 but was raised in 1704 and rebuilt at Chatham in 1710. She was once again rebuilt in 1739 and renamed Duke. Under the new name, she remained in service until 1769, when she was finally broken up in Plymouth.
The third Vanguard was a 70 gun ship launched in 1748 and sold in 1774. The forth vessel was a Spanish gun boat of 4 guns, captured in 1780 but only remained in service for about a year.
Nelson's Vanguard was designed by Sir Thomas Slade (of Victory fame) and was one of fourteen Third Rate 74 gun ships which formed the (very successful) Arrogant class which were, in order of build;
HMS Arrogant
HMS Audacious
HMS Bellerophon
HMS Cornwall
HMS Defence
HMS Edgar
HMS Excellent
HMS Goliath
HMS Illustrious
HMS Kent
HMS Saturn
HMS Elephant
HMS Vanguard
HMS Zealous
Specifications for the Arrogant Class were as follows;
Initial design date - 1758.​
Designer - Thomas Slade.​
Length of gun deck - 168 feet.​
Length of keel for tonnage - 138 feet.​
Extreme breadth - 46 feet 9 inches.​
Depth in hold - 19 foot 9 inches.​
Tons burthen - 1604. 27/94.​
Complement - 550 officers and men.​
​
The Vanguard was ordered on 9th December 1779 and the keel was laid down at Deptford Dockyard on 16th October 1782. During this time, Britain was not at war so her build went ahead very slowly, being launched on 6th March 1787.
The total cost of Vanguard's construction and fitting out was just over £39,000.
As with other 74 gun ships, just over 3,000 loads of timber were needed for her construction the majority (92%) being oak. This all equated to approximately 75 acres of forest land that was cut down to make Vanguard alone'
Her armament consisted of 28 short 32 pounders on her lower gun deck, 28 long 18 pounders on her upper gun deck and 18 long 9 pounders on her quarter deck and forecastle, Vanguard could deliver a single broadside of 781 pounds. Vanguard (and her sisters) weighed approximately 1,604 tonnes and carried a compliment of around 550 officers and men.
Vanguard was classed as a Third Rate Ship of the Line. The rating of ships referred to the number of guns carried. A first rate carried 100 to 110 guns upwards (Victory was a first rate ship of the line); a second rate carried 84 to 98 guns (HMS Temeraire, of Turner painting and Trafalgar fame was a second rate 98 gun Ship of the Line); a third rate 64 to 84 guns; forth rate 40 to 50 guns; fifth rate 28 to 38 and finally sixth rates, which carried any number of guns up to 24 if commanded by a post-captain.
Only ships of the first three rates were considered as ships of the line, as they were built to be powerful enough to lie in the line of battle due to their heavier armament.
At the time of the Battle of the Nile in 1798, Vanguard also possibly carried 6 carronades on her poop deck, and it is quite possible some of the 9 pounders on the upper deck were also replaced with carronades, as these weapons proved devastatingly effective at close quarters.
It is also possible the open stern gallery was closed in, (as with Victory in 1803), during Vanguard's refit in Chatham in 1797, however, this is only speculation and there is little evidence to support this (the high cost of the rebuild being the only evidence, but makes no mention of the stern gallery being enclosed), so the kit has been designed showing the open gallery, as built. Vanguard was also re-coppered during the refit, and sailed from Chatham on 3rd February 1798 under the command of Edward Berry.
Appointed to join St.Vincent's squadron blockading the Spanish port of Cadiz, Nelson hoisted his flag in the Vanguard at Spithead on 14th March 1798.
**********************************************​
Some general pictures of the completed model:
PICT_V_9901
PICT_V_9902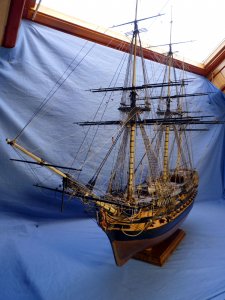 PICT_V_9903
PICT_V_9904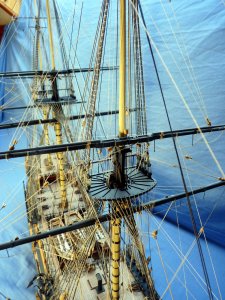 PICT_V_9905