Hello. I'd like to introduce You the building process of my cardstock (pressboard) HMS Victory.
The first thing was to make a ship's frames. The frames I made from 1 mm cardstock, except the bottom of hull (beneath the waterline), where the frames are 3 mm thick. To increase the thickness I glued additional strips of paper on each frame's side. I made this because I wanted to have a wider surface to glue the first layer of "plank".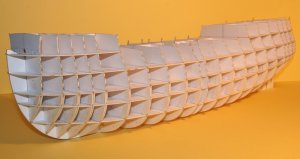 All sticking out parts of frames I soaked using CA glue. It helps strengthen them to avoid accidentally damage.
I glued two pine slats, one on each side, following almost from bow to stern, to keep the straight line of the paper "keel".
Each frame was initially "sanded", but without using sandpaper. I made this by using the colourless water glue, putting it on each frame's edge, to soften this element. Then, with a wooden spatula I smoothed the frame edges.
Between the frames I glued cardstock pieces (2 mm thick). It helps to avoid "falling" the paper planks between the frames, because they are not as stiff and hard as wooden. It's hard to believe, but there are about 500 pieces.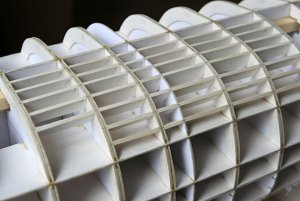 Finally, the view of the first "planking"
Last edited: