Administrator
Staff member
Administrator
Joined

Dec 25, 2017
Messages

18,901
Points

938

Location
HMY Royal Caroline - Royal Charlotte (1750 - 1820) / Royal Yacht with 8 guns
HMY Royal Caroline was a ship-rigged royal yacht. She was ordered in 1749 as a purpose built to replace HMY Carolina as Britain's principal royal yacht.
She was designed by Surveyor Joseph Allin and built at Deptford Dockyard under the supervision of Master Shipwright John Holland.
She was launched on 29 January 1750, renamed in 1761 to HMY Royal Charlotte and was broken up 70 years later, in 1820.
Technical data of the vessel:
Tons burthen: 232 11⁄94 (
bm
)
Length: 90 ft 1 in (27.46 m) at gundeck and 72 ft 2 1⁄2 in (22.009 m) at keel
Beam: 24 ft 7 in (7.49 m)
Depth of hold:11 ft (3.4 m)
Sail plan:
Full rigged ship
Armament: 8 x 4-pounder (or 10 x 3-pounder) guns + 8 x ½-pdr
swivel guns
Usually we can find this painting by John Clevely the Elder showing the HMY Royal Caroline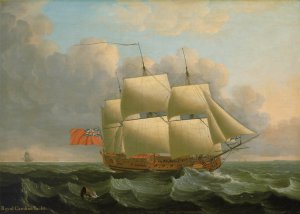 By Royal Museums Greenwich, Public Domain, https://commons.wikimedia.org/w/index.php?curid=19729549
The 'Royal Caroline' was built in 1749 by Joshua Allin at Deptford and was an adapted sixth-rate. She replaced the 'Carolina' as the principal royal yacht. In 1761 she was sumptuously fitted out to collect the Queen Consort to be, Princess Charlotte, from Kiel, and her name was changed to the 'Royal Charlotte'. This broadside-view ship portrait from off the starboard bow, shows the ship in full sail flying the red and blue ensign and the common pendant. John Cleveley came from an English family of painters. He was born in Southwark, London and did not become a professional painter until the late 1740s. He lived and eventually died in Deptford, London, where he worked as a shipwright in the Royal Dockyard, becoming a part-time painter in adult life, and frequently made ships in Deptford yard the subject in his paintings. It is likely that as he grew older his position as a a shipwright/carpenter became more a sinecure. His work combined depictions of people with topographical accuracy and architectural detail. He was an early exhibiter at the Free Society of Artists in London, and two of his three sons, John Cleveley the Younger and his twin brother, Robert Cleveley also became painters after working in Deptford's Royal Dockyard. The painting has been signed and dated by the artist in the lower-left sea 'Royal Caroline Yacht'. J Cleveley 1750'.
Read more at
http://collections.rmg.co.uk/collections/objects/15071.html#uGz8wmIMrQMoLy4m.99
Service:
HMY Royal Caroline
was first commissioned under Captain Sir Charles Molloy, who commanded her until 1753.
Captain
Sir Piercy Brett
took over in 1754, and in August 1761 she became the
flagship
of
Admiral of the Fleet
Lord Anson
, with Captain
Peter Denis
as his
flag-captain
. Anson had orders to convey
Duchess Charlotte of Mecklenburg-Strelitz
from
Cuxhaven
,
Kiel
to marry
George III
.
Accompanying the yacht, renamed
HMY Royal Charlotte
in honour of the occasion, was a squadron of warships and four other royal yachts,
HMY Mary
,
Katherine
,
Augusta
and
Fubbs
.
During the return voyage the squadron was three times blown over to the Norwegian coast by westerly gales and took ten days to reach
Harwich
, which it did on 6 September 1761.
(see herefore the following post with paintings)
HMY Royal Charlotte
was commissioned under Peter Denis in December 1763, and remained under his command until 1770.
Denis was succeeded by Captain
John Campbell
that year, and Campbell remained in command until his promotion to
rear-admiral
in 1777.
HMY Royal Charlotte
was recommissioned under Captain
William Cornwallis
in March 1783,
and he was succeeded in turn by Captain
Sir Hyde Parker
in 1788.
The yacht was briefly recommissioned in December 1792, but was paid off the following year.
She continued to be used for official occasions during the
French Revolutionary
and
Napoleonic Wars
, with King George III making frequent trips in his yachts to welcome returning fleets and to conduct
fleet reviews
.
The King embarked on
HMY Royal Charlotte
in 1797 to visit the fleet at the
Nore
after the
Battle of Camperdown
, in order to honour Admiral
Adam Duncan
. Contrary winds however prevented the ship from reaching the mouth of the Thames, and instead the King was blown back up river to
Greenwich
.
HMY Royal Charlotte
recommissioned again in May 1801 under Captain
Sir Harry Neale
, though by February 1804 Captain
George Grey
was in command. Grey was succeeded later in 1804 by Captain
George Henry Towry
, and he in turn in 1805 by Captain
Edward Foote
. By this time HMY
Royal Charlotte
had been succeeded as the principal royal yacht by the introduction of the slightly larger
HMY
Royal Sovereign
in 1804. Captain Foote commanded the yacht until 1812, when Captain
Thomas Eyles
took over command, and in June 1814 Captain George Scott became her commander.
Royal Charlotte
continued in service until July 1820, when she was finally broken up.
So 70 years of service and we can assume, that she was already an oldtimer in the last years.
References:
• Madge, Tim (1997). Royal Yachts of the World. Thomas Reed Publications.
• Winfield, Rif (2007). British Warships in the Age of Sail 1714–1792: Design, Construction, Careers and Fates. Seaforth.
• Bellabarba, Sergio (1989).
The Royal Yacht CAROLINE, Anatomy of the Ship
Conway
(book review in SOS please click on title of book)
Wonderfull model:
http://www.shipmodell.com/index_files/SHIPMODELL_ROYAL_CAROLINE.htm
The ship on
"Threedecks"
:
https://threedecks.org/index.php?display_type=show_ship&id=6276
Last edited: