Joined

Apr 13, 2021
Messages

24
Points

68

Location
Hello friends,
As Uwek suggested to me, I create a specific topic for my cordages. Indeed, I make my own cordages using a homemade planetary stringing machine. I can sell cotton, polyester or polyamide ropes at very attractive prices. I have 3-yarns or 4-yarns cordages (with core for the 4-yarns) in different colors (see the table below).
As base yarns, I use industrial string like Gütermann, Tenax or Serafil for polyester, Onyx for polyamide, DMC or "Louis d'Or" for cotton yarn.
Here are a view of the polyester base yarns (in straw color which well approximates the hemp color). The graduation is in 0,1 mm.
Now a view of 3-yarns ropes made using the same base yarn: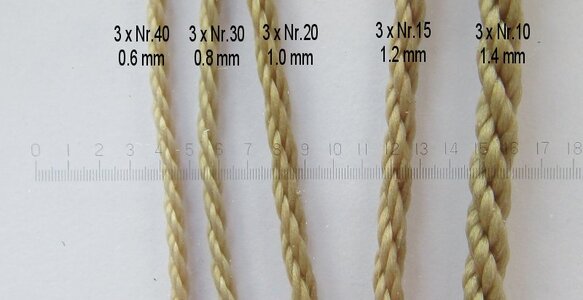 And finaly 4-yarns ropes:
And a representative part of the stock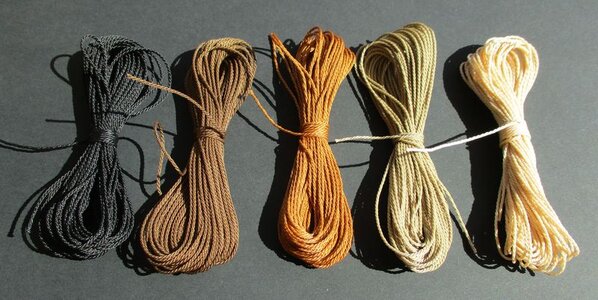 The cordages are sold by meter. The max length in one piece depends on the diameter (30m for the thinnest, but only 3.5m for the biggest).
For the base yarn the prices are between 0.08€ and 0.10€ per meter
The 3-yarns rope costs between 0.25€ and 0.40€ per meter
The 4-yarns rope costs between 0.40€ and 0.60€ per meter
To this must be added the shipping costs (To be studied depending on the country). So far I have only delivered in France. I'm not sure how to easily send ropes outside the European Union.
On demand, I can also produce ropes served with spunyard for shrouds and stays.
The base yarns are generally laid right handed (Z), so the cordages are laid left handed (S).
Below are all the cordages I have or can make (in order of increasing diameters). I spent a lot of time trying to set the background color of the color cell to the good RGB code, but it seems impossible on this forum, so you have to imagine the colors. I reassure you, I did not fill this table by hand but automatically from Excel
:
| Reference | Diameter (approx) | Color | Matter |
| --- | --- | --- | --- |
| CO1x60Z10 | Ø 0,20 mm / 0,008 inch | Nut-brown | Cotton |
| CO1x60Z9 | Ø 0,20 mm / 0,008 inch | White | Cotton |
| PA1x60Z9 | Ø 0,20 mm / 0,008 inch | White | Polyamide |
| PC1x50Z1 | Ø 0,25 mm / 0,010 inch | Straw | Polyester & cotton |
| PE1x40Z3 | Ø 0,25 mm / 0,010 inch | Black | Polyester |
| CO1x40Z9 | Ø 0,30 mm / 0,012 inch | White | Cotton |
| PA1x40Z4 | Ø 0,30 mm / 0,012 inch | Brown | Polyamide |
| PE1x40Z1 | Ø 0,30 mm / 0,012 inch | Straw | Polyester |
| PE1x40Z5 | Ø 0,30 mm / 0,012 inch | Dark Brown | Polyester |
| CO1x35Z11 | Ø 0,35 mm / 0,014 inch | Light brown | Cotton |
| PA1x35Z3 | Ø 0,35 mm / 0,014 inch | Black | Polyamide |
| PE1x35Z9 | Ø 0,35 mm / 0,014 inch | White | Polyester |
| CO3x60S10 | Ø 0,40 mm / 0,016 inch | Nut-brown | Cotton |
| CO3x60S9 | Ø 0,40 mm / 0,016 inch | White | Cotton |
| PA1x30Z4 | Ø 0,40 mm / 0,016 inch | Brown | Polyamide |
| PA1x30Z8 | Ø 0,40 mm / 0,016 inch | Grey | Polyamide |
| PA3x60S9 | Ø 0,40 mm / 0,016 inch | White | Polyamide |
| PE1x30Z1 | Ø 0,40 mm / 0,016 inch | Straw | Polyester |
| PE1x30Z2 | Ø 0,40 mm / 0,016 inch | Beige | Polyester |
| PE1x30Z3 | Ø 0,40 mm / 0,016 inch | Black | Polyester |
| PE1x30Z4 | Ø 0,40 mm / 0,016 inch | Brown | Polyester |
| PE1x30Z5 | Ø 0,40 mm / 0,016 inch | Dark Brown | Polyester |
| PE1x30Z7 | Ø 0,40 mm / 0,016 inch | Cream | Polyester |
| PE1x40Z6 | Ø 0,40 mm / 0,016 inch | Ocher | Polyester |
| CO4A60S10 | Ø 0,43 mm / 0,017 inch | Nut-brown | Cotton |
| CO4A60S9 | Ø 0,43 mm / 0,017 inch | White | Cotton |
| PA4A60S9 | Ø 0,43 mm / 0,017 inch | White | Polyamide |
| CO1x30Z6 | Ø 0,50 mm / 0,020 inch | Ocher | Cotton |
| PC3x50S1 | Ø 0,50 mm / 0,020 inch | Straw | Polyester & cotton |
| PE1x20Z1 | Ø 0,50 mm / 0,020 inch | Straw | Polyester |
| PE1x20Z2 | Ø 0,50 mm / 0,020 inch | Beige | Polyester |
| PE1x20Z3 | Ø 0,50 mm / 0,020 inch | Black | Polyester |
| PE1x20Z4 | Ø 0,50 mm / 0,020 inch | Brown | Polyester |
| PE1x20Z5 | Ø 0,50 mm / 0,020 inch | Dark Brown | Polyester |
| PE3x40S3 | Ø 0,50 mm / 0,020 inch | Black | Polyester |
| PC4A50S1 | Ø 0,54 mm / 0,021 inch | Straw | Polyester & cotton |
| PE4A40S3 | Ø 0,54 mm / 0,021 inch | Black | Polyester |
| CO1x30Z5 | Ø 0,60 mm / 0,024 inch | Dark Brown | Cotton |
| CO1x15Z9 | Ø 0,60 mm / 0,024 inch | White | Cotton |
| CO3x40S9 | Ø 0,60 mm / 0,024 inch | White | Cotton |
| PA3x40S4 | Ø 0,60 mm / 0,024 inch | Brown | Polyamide |
| PE1x15Z1 | Ø 0,60 mm / 0,024 inch | Straw | Polyester |
| PE3x40S1 | Ø 0,60 mm / 0,024 inch | Straw | Polyester |
| PE3x40S5 | Ø 0,60 mm / 0,024 inch | Dark Brown | Polyester |
| CO4A40S9 | Ø 0,65 mm / 0,025 inch | White | Cotton |
| PA4A40S4 | Ø 0,65 mm / 0,025 inch | Brown | Polyamide |
| PE4A40S1 | Ø 0,65 mm / 0,025 inch | Straw | Polyester |
| PE4A40S5 | Ø 0,65 mm / 0,025 inch | Dark Brown | Polyester |
| CO1x10S4 | Ø 0,70 mm / 0,028 inch | Brown | Cotton |
| CO1x10Z9 | Ø 0,70 mm / 0,028 inch | White | Cotton |
| CO3x35S11 | Ø 0,70 mm / 0,028 inch | Light brown | Cotton |
| PE1x10Z1 | Ø 0,70 mm / 0,028 inch | Straw | Polyester |
| PE1x10Z2 | Ø 0,70 mm / 0,028 inch | Beige | Polyester |
| PE1x10Z3 | Ø 0,70 mm / 0,028 inch | Black | Polyester |
| PE1x10Z4 | Ø 0,70 mm / 0,028 inch | Brown | Polyester |
| PE3x35S9 | Ø 0,70 mm / 0,028 inch | White | Polyester |
| CO4A35S11 | Ø 0,75 mm / 0,030 inch | Light brown | Cotton |
| PA4A35S3 | Ø 0,75 mm / 0,030 inch | Black | Polyamide |
| PE4A35S9 | Ø 0,75 mm / 0,030 inch | White | Polyester |
| PA3x30S4 | Ø 0,80 mm / 0,031 inch | Brown | Polyamide |
| PA3x30S8 | Ø 0,80 mm / 0,031 inch | Grey | Polyamide |
| PE3x30S1 | Ø 0,80 mm / 0,031 inch | Straw | Polyester |
| PE3x30S2 | Ø 0,80 mm / 0,031 inch | Beige | Polyester |
| PE3x30S3 | Ø 0,80 mm / 0,031 inch | Black | Polyester |
| PE3x30S4 | Ø 0,80 mm / 0,031 inch | Brown | Polyester |
| PE3x30S5 | Ø 0,80 mm / 0,031 inch | Dark Brown | Polyester |
| PE3x30S7 | Ø 0,80 mm / 0,031 inch | Cream | Polyester |
| PE3x40S6 | Ø 0,80 mm / 0,031 inch | Ocher | Polyester |
| PA4A30S4 | Ø 0,86 mm / 0,034 inch | Brown | Polyamide |
| PA4A30S8 | Ø 0,86 mm / 0,034 inch | Grey | Polyamide |
| PE4A30S1 | Ø 0,86 mm / 0,034 inch | Straw | Polyester |
| PE4A30S2 | Ø 0,86 mm / 0,034 inch | Beige | Polyester |
| PE4A30S3 | Ø 0,86 mm / 0,034 inch | Black | Polyester |
| PE4A30S4 | Ø 0,86 mm / 0,034 inch | Brown | Polyester |
| PE4A30S5 | Ø 0,86 mm / 0,034 inch | Dark Brown | Polyester |
| PE4A30S7 | Ø 0,86 mm / 0,034 inch | Cream | Polyester |
| PE4A40S6 | Ø 0,86 mm / 0,034 inch | Ocher | Polyester |
| CO3x30S6 | Ø 1,00 mm / 0,039 inch | Ocher | Cotton |
| PE3x20S1 | Ø 1,00 mm / 0,039 inch | Straw | Polyester |
| PE3x20S2 | Ø 1,00 mm / 0,039 inch | Beige | Polyester |
| PE3x20S3 | Ø 1,00 mm / 0,039 inch | Black | Polyester |
| PE3x20S4 | Ø 1,00 mm / 0,039 inch | Brown | Polyester |
| PE3x20S5 | Ø 1,00 mm / 0,039 inch | Dark Brown | Polyester |
| PE4M30S7 | Ø 1,00 mm / 0,039 inch | Cream | Polyester |
| PE4A20S1 | Ø 1,08 mm / 0,042 inch | Straw | Polyester |
| PE4A20S2 | Ø 1,08 mm / 0,042 inch | Beige | Polyester |
| PE4A20S3 | Ø 1,08 mm / 0,042 inch | Black | Polyester |
| PE4A20S4 | Ø 1,08 mm / 0,042 inch | Brown | Polyester |
| PE4A20S5 | Ø 1,08 mm / 0,042 inch | Dark Brown | Polyester |
| CO3x30S5 | Ø 1,20 mm / 0,047 inch | Dark Brown | Cotton |
| CO3x15S9 | Ø 1,20 mm / 0,047 inch | White | Cotton |
| PE3x15S1 | Ø 1,20 mm / 0,047 inch | Straw | Polyester |
| CO4A15S9 | Ø 1,29 mm / 0,051 inch | White | Cotton |
| CO4A30S5 | Ø 1,29 mm / 0,051 inch | Dark Brown | Cotton |
| PE4A15S1 | Ø 1,29 mm / 0,051 inch | Straw | Polyester |
| CO3x10S9 | Ø 1,40 mm / 0,055 inch | White | Cotton |
| CO3x10Z4 | Ø 1,40 mm / 0,055 inch | Brown | Cotton |
| PE3x10S1 | Ø 1,40 mm / 0,055 inch | Straw | Polyester |
| PE3x10S2 | Ø 1,40 mm / 0,055 inch | Beige | Polyester |
| PE3x10S3 | Ø 1,40 mm / 0,055 inch | Black | Polyester |
| PE3x10S4 | Ø 1,40 mm / 0,055 inch | Brown | Polyester |
| CO4A10S9 | Ø 1,51 mm / 0,059 inch | White | Cotton |
| CO4A10Z4 | Ø 1,51 mm / 0,059 inch | Brown | Cotton |
| PE4A10S1 | Ø 1,51 mm / 0,059 inch | Straw | Polyester |
| PE4A10S2 | Ø 1,51 mm / 0,059 inch | Beige | Polyester |
| PE4A10S3 | Ø 1,51 mm / 0,059 inch | Black | Polyester |
| PE4A10S4 | Ø 1,51 mm / 0,059 inch | Brown | Polyester |
King regards
Fred