Administrator
Staff member
Administrator
Joined

Dec 25, 2017
Messages

18,434
Points

938

Location
1.st INTERNATIONAL CONVENTION OF MODEL SHIPBUILDING in Rochefort, France - 18.th to 21.st October 2018
1.er Congres International de Modelisme Naval - Rochefort - du 18 au 21 Octobre 2018
What is the idea ?
The idea is to select and gather around one hundred quality model shipbuilders coming from all over the world. Invited by the City of Rochefort, this convention will be held in the Convention Hall, facing the Gate of the Sun the main entrance to the Naval Dockyard.
It will be the opportunity to introduce model shipbuilding, a hobby shared among many people around the world who will share their knowledge and show their work to visitors.
It seems to be, if my Admiral will accept it, that I will travel with three handfull german modelers to Rochefort, some with their models, to participate at this convention. (Remark: I am not counted in the "100 quality model shipbuilders")
At this convention it is planned, that modelers from Japan, USA, Russia, Italy, Spain and Germany are joining together at this historic interesting location.
The Exhibition of the models will be in one part of the National Maritime Museum in Rochefort, open for public from 11 to 18 PM.
Program:
Next to cocktail and dinner parties there will be organized from the french friends from Arsenal also a
- workshop "Ship modeling for all" by Gerard Piouffre
- visit of National Maritime Museum
- visit of Navy History Documentation Archives
- visit of the frigate L´Hermione, which will be at this time moored in the double "Napoleon" drydock
- visit of old school of naval Medicine
- visit of the Sea and Air Command Museum
- visit of the Royal Rope Factory with trials
- several lectures like "The battle of Chesapeake Cape: behind the scene, the Bourbon Family Compact, by Admiral JY Nerzic, "Origin and sources for documentation", "Restoration of ancient models" and "Is there a market for top quality models"
It is organized by the
City of Rochefort, Assiciation des Amis du Musee national de la Marine, Musee national de la Marine, Corderie Royale, Service Historique de la Defense
and
Musee de lÁeronautique Navale
The naval Museum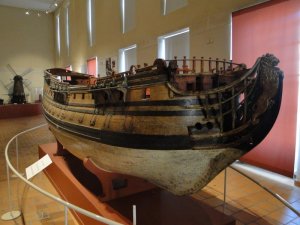 The rope factory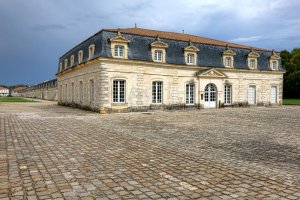 The double dry dock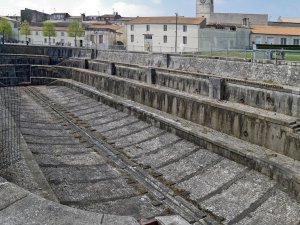 At this film you see the L´Hermione entering the dry docks of Rochefort, at that time of the Convention the ship will be moored in one of the drydocks......
Look here:
https://www.cimnfrance.com/