Well-Known Member
Staff member
Blandford Group Build
Joined

Dec 25, 2017
Messages

4,930
Points

113

Location
Today in Naval History - Naval / Maritime Events in History
9 January 1917 – german merchant raider SMS Seeadler (Ger: sea eagle), a three-master windjammer, captured and sunk Gladis Royle, 3,268 tons
SMS Seeadler
(
Ger
:
sea eagle
) was a three-master
windjammer
. She was one of the last fighting sailing ships to be used in war when she served as a
merchant raider
with
Imperial Germany
in
World War I
. Built as the US-flagged
Pass of Balmaha
, she was captured by the German submarine
SM U-36
, and in 1916 converted to a commerce raider. As
Seeadler
she had a successful raiding career, capturing and sinking 15 ships in 225 days until she was wrecked, in September 1917, in French Polynesia.
Pass of Balmaha later SMS Seeadler
Pass of Balmaha
The ship was launched as
Pass of Balmaha
by Robert Duncan & Company,
Port Glasgow
,
Scotland
, on 9 August 1888 as a 1,571
GRT
steel-
hulled
ship-rigged
sailing vessel. She was 245 feet (75 m) long, 39 feet (12 m) in
beam
and with a depth of 23 feet (7.0 m). Delivered in the following month to the ownership of David R Clark, a partner in Gibson & Clark,
Glasgow
, she was registered at that port with
Official Number
95087 and signal letters KTRP.
In February 1908,
Pass of Balmaha
was sold at
Leith
by Gibson & Clark for £5,500. By 1910, she was owned by Ship Pass of Balmaha Co Ltd,
Montreal
, and under the management of George I Dewar,
Toronto
, though Glasgow remained her port of registry.
It is believed she was later owned by the Harris-Irby Cotton Company,
Boston
, and sailed under the US flag.
Displacement: 4500 tons (1,571
GRT
)
Length: 83.5 m
Beam: 11.8 m
Draught: 5.5 m
Installed power: 900 hp
Propulsion: 1 shaft auxiliary
diesel engine
Sail plan: 3 masts, full rig, 2,600 square metres (28,000 sq ft) sail area
Speed: 9 knots (17 km/h)
Complement: 64
Armament: 2 × 105mm guns, 2 x machine guns, 2 x
torpedo tubes
Capture
Pass of Balmaha
was captured by
U-36
in the
North Sea
in 1915 under somewhat peculiar circumstances.
New York Harbor
in June 1915, bound for the Arctic port of
Arkhangelsk
with a cargo of cotton for Russia. She was intercepted by the British
auxiliary cruiser
Victorian
off the coast of
Norway
.
Victorian'
s captain led a boarding party to inspect the cargo for contraband. The British captain found reason for suspicion, and ordered
Pass of Balmaha
to sail to
Kirkwall
in the
Orkney Islands
for further inspection. A prize crew of an officer and six
marines
was left aboard to ensure compliance.
The British also ordered the neutral American colours struck and replaced with the British flag, against the will of
Pass of Balmaha'
s Captain Scott, who realised that this would mark the ship as a belligerent. Soon after,
U-36
intercepted
Pass of Balmaha
. To avoid being impounded, Scott hid the British prize crew in the hold and replaced the
Union Jack
with the
Stars and Stripes
. The commander of the
U-36
, Captain Ernst Graeff, was not entirely convinced by this ruse and ordered
Pass of Balmaha
to sail for
Cuxhaven
for inspection. A German ensign was left aboard. Scott and his crew, resentful of what they perceived as British meddling, kept the British marines locked in the hold.
Pass of Balmaha
reached Cuxhaven without major incident, and was boarded by a German inspection party. Captain Scott then revealed the British prize crew to the Germans, who took them prisoner. For their cooperation, the Americans were allowed free passage to a neutral country, but
Pass of Balmaha
became property of the German Navy.
SMS Seeadler
SMS
Seeadler
by
Christopher Rave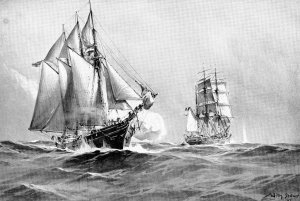 The German auxiliary cruiser SMS
Seeadler
capturing the French Bark
Cambronne
off the Brazilian coast on March 20, 1917. Depicted by Willy Stöwer.
By 1916 the Allies had blockaded German warships in the
North Sea
, and any
commerce raiders
that succeeded in breaking out lacked foreign or colonial bases for resupply of
coal
. This gave rise to the idea of equipping a sailing ship instead, since it would not require coaling.
The
Seeadler
was equipped with an auxiliary engine, hidden lounges, accommodation for additional crew and prisoners, two hidden
105 mm cannons
that could emerge from the deck, two hidden heavy
machine guns
, and rifles for boarding parties. These weapons were rarely fired, and many of the 15 ships encountered by the
Seeadler
were sunk with only one single accidental casualty on either side during the entire journey.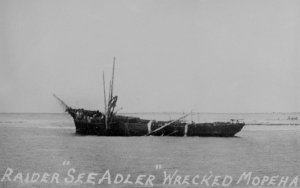 Seeadler
wrecked
On 21 December 1916, she sailed under the command of
Kapitänleutnant
Felix von Luckner
.
The ship was disguised as a
Norwegian
wood carrier and succeeded in crossing the British blockading line despite being boarded for an inspection. The crew had been handpicked partly for their ability to speak
Norwegian
. Over the next 225 days, she captured 15 ships in the
Atlantic
and
Pacific
and led the British and US Navies on a merry chase.
Her journey ended wrecked on a
reef
at the island of
Mopelia
450 km from
Tahiti
in the
Society Islands
, part of
French Polynesia
. Luckner and some crew sailed for
Fiji
, where they were captured and imprisoned. A French
schooner
, the
Lutece
, of 126 tons was captured by the remaining crew on 5 September 1917. They sailed to
Easter Island
as
Fortuna
, arriving on 4 October and running aground there, after which they were interned by the
Chilean
authorities.
Captured ships
Route of the SMS Seeadler and locations of ships engaged (1–2 North Atlantic, 3–11 Mid-Atlantic, 12–14 Pacific)
Sixteen ships, totaling 30,099 tons, were captured by the
Seeadler
between 21 December 1916 and 8 September 1917. Unless otherwise noted, all vessels in the list were steamships.
Gladis Royle, 3,268 tons, captured and sunk 9 January 1917.
Lundy Island, 3,095 tons, captured and sunk on 10 January 1917.
Charles Gounod, 2,199 tons, French barque captured and sunk on 21 January 1917.
Perce, 364 tons, schooner captured and sunk on 24 January 1917.
Antonin, 3,071 tons, French barque captured and sunk on 3 February 1917.
Buenos Ayres, 1,811 tons, Italian sailing vessel captured and sunk on 9 February 1917.
Pinmore, 2,431 tons, schooner captured on 19 February 1917 and later sunk after being used to obtain supplies.
British Yeoman, 1,953 tons, sailing barque captured and sunk on 26 February 1917.
La Rochefoucauld, 2,200 tons, French barque captured and sunk on 27 February 1917.
Dupleix, 2,206 tons, French barque captured and sunk on 5 March 1917.
Horngarth, 3,609 tons, captured and sunk on 11 March 1917.
Cambronne, 1,833 tons, French barque captured and released 21 March, arrived at Rio de Janeiro, Brazil on 30 March 1917.
A. B. Johnson, 529 tons, United States schooner captured and sunk on 14 June 1917.
R. C. Slade, 673 tons, United States schooner captured and sunk on 18 June 1917.
Manila, 731 tons, United States schooner captured and sunk on 8 July 1917.
Lutece - see above.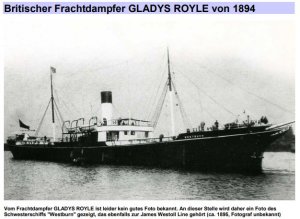 https://en.wikipedia.org/wiki/SMS_Seeadler_(1888)
http://www.schiffe-und-mehr.com/die...l-zum-motorschiff/frachtdampfer-gladys-royle/