Admin
Staff member
Administrative
Blandford Group Build
Joined

Dec 25, 2017
Messages

8,230
Points

728

Location
Today in Naval History - Naval / Maritime Events in History
12 May 1808 - HMS Tartar (32), Cptn. G. E. B. Bettesworth (Killed in Action), and boats engaged at Bergen.


HMS Tartar
left Leith roads on 10 May 1807 and arrived off Bergen on the 12th, but heavy fog prevented her from getting closer until three days later. Unfortunately, by the time Tartar arrived, Guelderland had sailed more than a week earlier. Bettesworth nevertheless decided to send his boats into the harbour to cut out some merchant vessels and three privateers that were there. When the boats encountered heavy fire and discovered that a heavy chain protected the ships in the harbour, they and Bettesworth returned to Tartar. However, as Tartar tried to withdraw, she came attack from the schooner Odin and between three and six gunboats (accounts differ). Cannon fire from the Norwegians killed Bettesworth and a midshipman, Henry FitzHugh, early in the action. A further twelve men were wounded before Tartar was able to complete her withdrawal. The Danes lost four men, and a gunboat.
Tartar
fighting gunboats at the
battle of Alvøen
HMS
Tartar
was a 32-gun
fifth-rate
Narcissus-class
frigate
of the
Royal Navy
, built at
Frindsbury
and launched in 1801. She captured privateers on the
Jamaica station
and fought in the
Gunboat War
and elsewhere in the Baltic before being lost to grounding off Estonia in 1811.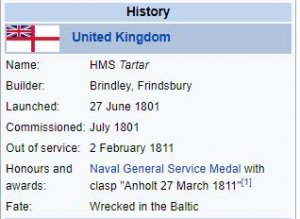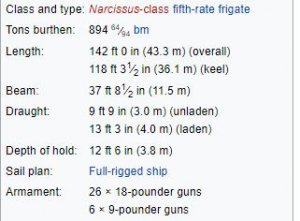 Scale 1:48. Plan showing the body plan, sheer lines with later alterations to gun ports and longitudinal half breadth proposed and approved for Narcissus (1801), and later Tartar (1801), both 32-gun, Fifth Rate Frigates. The plan also relate to Cornelia (1808), of the same class. Signed J. Henslow and W.Rule. (Surveyors of the navy)
https://collections.rmg.co.uk/collections.html#!csearch;authority=vessel-352679;browseBy=vessel;vesselFacetLetter=T