Administrator
Staff member
Administrator
Joined

Dec 25, 2017
Messages

17,220
Points

938

Location
Book Review:
LA MARINE DE LOUIS XVI
1. Vaisseaux et frégates de Choiseul à Sartine
by
Patrick VILLIERS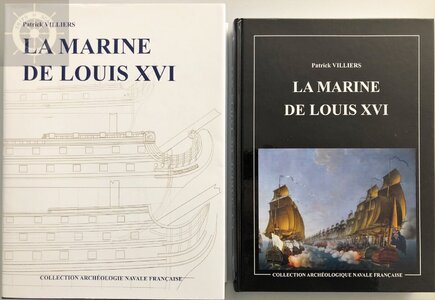 New augmented edition and color documents.
book with 480 pages and 45 drawings and plans in an additional slipcase
available in french language directly from ancre via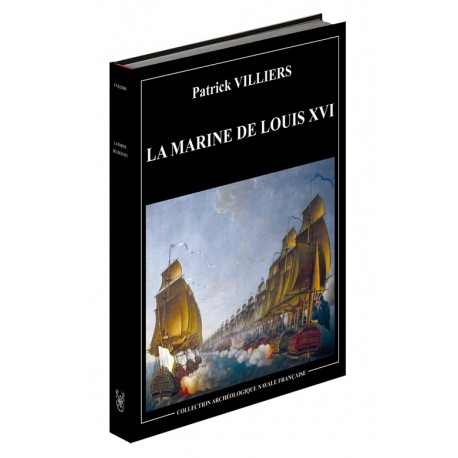 1. Vaisseaux et frégates de Choiseul à Sartine, coffret et plans, paru.2. Vaisseaux et frégates de Castries à la révolution, à paraître.3. Flûtes, corvettes, corsaires et négriers, à paraître.4. Petite marine royale, lougres, cutters, avisos, barques, caboteurs et navires de pêche. New...

ancre.fr
SYNOPSIS:
In May 1781 Rochambeau wrote to the Comte de Grasse, Commander-in-Chief of the West Indian Fleet: "In the very serious crisis in which America finds itself at the moment, the arrival of Monsieur le Comte de Grasse would save the situation". On June 11, he writes again "I do not hide from you that the Americans are at the end of their resources ... I am convinced that you will bring us naval superiority but I cannot repeat too often to take the troops and the money too. … ". Responding to this cry for help, de Grasse, aboard his flagship, the City of Paris decides to concentrate its fleet and the troops embarked in the West Indies in the Chesapeake Bay and to surround Yorktown. This victorious strategy gave independence to the United States allowing the French navy to forget the disasters of the Seven Years' War.
This 480-page book aims to bring together maritime history and shipbuilding by first studying maritime strategy and tactics. The second part is presented as a maritime biography of the ships and frigates which distinguished themselves in this conflict by publishing as many original documents as possible.
20 frigates and 35 vessels are thus the subject of a special study, thus making it possible to renew traditional maritime history.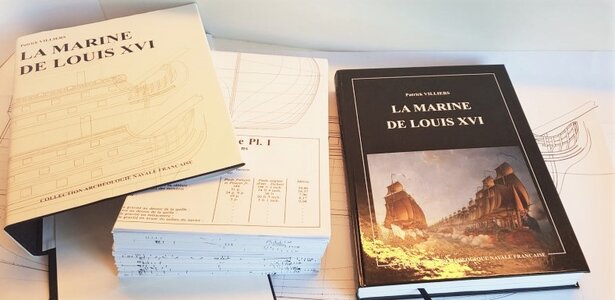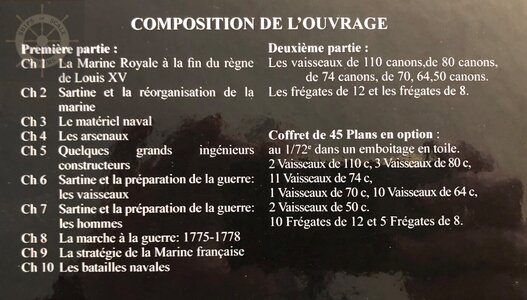 CONTENT of the BOOK:



First Part
Ch 1 The Royal Navy at the end of the reign of Louis XV
Ch 2 Sartine and the reorganization of the navy
Ch 3 Naval equipment
Ch 4 Arsenals
Ch 5 Some great construction engineers
Ch 6 Sartine and the preparation for war: the ships
Ch 7 Sartine and the preparation for war: the men
Ch 8 The March to War: 1775-1778
Ch 9 The strategy of the French Navy
Ch 10 Naval Battles
Second part :
The ships of 110 guns, 80 guns, 74 guns, 70, 64, 50 guns.
The frigates of 12 and the frigates of 8.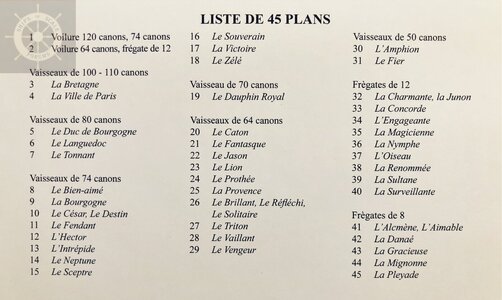 CONTENT od the DRAWINGS:
Box of 45 optional plans: at 1 / 72nd in a canvas case.
3 Vessels & 1 Frigates UNDER SAIL AT 1/144
2 Vessels of 110 c,
3 Vessels of 80 c,
11 Vessels of 74 c,
1 Vessels of 70 c,
10 Vessels of 64 c,
2 Vessels of 50 c.
10 Frigates of 12
and
5 Frigates of 8
Liste des 45 Plans :
1 Voilure 120 canons, 74 canons
2 Voilure 64 canons et Frégate de 12
Vaisseaux de 100-110 canons
3 La Bretagne
4 La Ville de Paris
Vaisseaux de 80 canons
5 Le Duc de Bourgogne
6 Le Languedoc
7 Le Tonnant
Vaisseaux de 74 canons
8 Le Bien-Aimé
9 La Bourgogne
10 Le César - Le Destin
11 Le Fendant
12 L'Hector
13 L'Intrépide
14 Le Neptune
15 Le Sceptre
16 Le Souverain
17 La Victoire
18 Le Zélé
Vaisseau de 70 canons
19 Le Dauphin Royal
Vaisseaux de 64 canons
20 Le Caton
21 Le Fantasque
22 Le Jason
23 Le Lion
24 Le Prothée
25 La Provence
26 Le Brillant, Le Réfléchi, Le Solitaire
27 Le Triton
28 Le Vaillant
29 Le Vengeur
Vaisseaux de 50 canons
30 L'Amphion
31 Le Fier
Frégates de 12
32 La Charmante, La Junon
33 La Concorde
34 L'Engageante
35 La Magicienne
36 La Nymphe
37 L'Oiseau
38 La Renommée
39 La Sultane
40 La Surveillante
Frégates de 8
41 L'Alcmène - L'Aimable
42 La Danaé
43 La Gracieuse
44 La Mignonne
45 La Pleyade
Forthcoming:
there is the plan to publish in future three further volumes
1. Vessels and frigates from Choiseul to Sartine, box and plans, published.
2. Vessels and frigates from Castries to the revolution, forthcoming.
3. Flutes, corvettes, privateers and slavers, to appear.
4. Small royal navy, lougres, cutters, avisos, boats, coasters and fishing vessels.
Look Inside the book: