Administrator
Staff member
Administrator
Joined

Dec 25, 2017
Messages

17,585
Points

938

Location
Planset Review:
La RENOMMÉE - Frégate de VIII - 1744
in scale 1:48
by
Jean Boudriot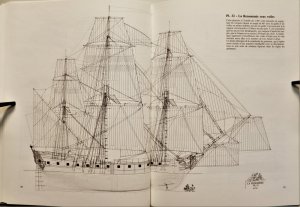 Monographie is available directly from ancre via
https://ancre.fr/en/monograph/20-monographie-de-la-renommee-fregate-de-8-1744.html#/langue-anglais
Price is 135,- Euro
There are different languages available, original written in
french
, but you can get the monographie also in
english or
italian
language.
With the order you have to decide, which language you prefer.
In addition now available, and this is what I will do in short time - only the booklet in english or italian, for these which have the older french version.
Synopsis:
This monograph takes its place in a series of texts devoted to the most representative ships of the French Navy in the classical period. We have addressed the subject of frigates in two other monographs (the Vénus and the Belle-Poule) which are distinguishable by their battery of 8 and 12 pdr guns. The present monograph discusses an armed frigate bearing 8-pdrr guns. It is a unique ship because La Renommée was one of the first modern frigates to be built in 1744 according to Blaise Ollivier's concepts. This aspect is developed in another volume in our series which discusses the history of the frigate. The monograph on the Renommée was done using the same descriptive approach we adopt in the other monographs in the series. This full monograph is for scholars and above all for model builders. According to their skill and experience, they will be able to execute a full model of the timbers and the below-deck installations (the oblique inner planking of the hull will require great dexterity). The casks for wine and water are not represented, nor are the cables and warps. However it is possible to construct these elements using the information in volume II of The 74-gun Ship, but their placement will hide the timber work. We leave this choice to the builder at the appropriate moment. The hull may be fitted out with only the lower masts or rigged with furled or unfurled sails, allowing for full use of the monograph. The model may be built without attention to the timbers and accommodations, with or without rigging. This is entirely dependent upon the builder's taste and especially his or her experience. This monograph is intended a priori for model builders with considerable experience. Confirmed hands will be able to construct a model of rare quality, especially thanks to the beauty of this elegant frigate whose fine bottom and distinguished decoration do honor to French naval architecture.
Contents:
Booklet with 112 pages
format 24 x 31 - paperback
comprenant :
- Sources et historique
- Reproduction des planches avec commentaires
- Note sur le vaigrage oblique
- Note sur l'artillerie
- Note sur la peinture
- Note sur les ouvrages métalliques
- Principaux éléments du décor
- Règles du gréement
- Aboutissement des manoeuvres
- Section manoeuvres - poulierie
- Appareil des basses vergues
32 plates with drawings in scale 1:48
Liste des planches au 1/48ème
1 . Elévation.
2. Sections horizontales.
3. Sections verticales.
4. Elévation boisée.
5. Plan cale et faux-pont.
6. Vaigrage de la cale.
7. Plan carène (membrure-bordage).
8. Plan du pont de la batterie.
9. Plan des gaillards.
10. Coupes transversales
11. Coupe longitudinale.
12. Eléments de structure.
13. Réalisation de la proue.
14. Réalisation de la poupe.
15-16-17-18-19. Tracé de la membrure.
19 bis. Emménagements de la cale.
20. Emménagements du faux-pont.
21. Emménagements du pont de la batterie.
22. Installations des gaillards.
23. Coupes transversales (emménagements).
24. Coupe longitudinale (emménagements).
25. Elévation de la coque (accastillée).
26. Vues avant et arrière.
27. Accastillage (1).
28. Accastillage (2).
29. Eléments de mâture.
30. Garniture de la mâture.
31. Ensemble de la voilure (éch. 1/120ème).
32. La Renommée sous voiles (éch. 1/84ème).
First a LOOK INSIDE of the planset with 32 full size drawings: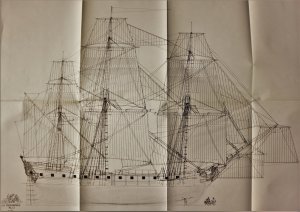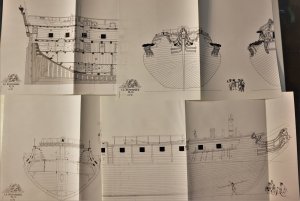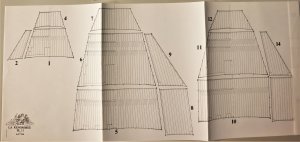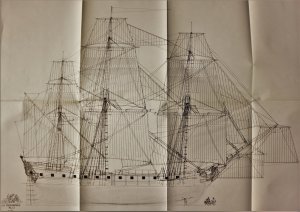 to be continued .....
Last edited: