Bonjour,
Début de la construction du vaisseau par les varangues et genoux de 22 couples centraux. J'attend le bois pour la charpente axiale.
En attendant, poncage du travail fait et usinage des allonges.
A bientôt.
PS: La dernière photo représente mon systeme de " serrage-collage ". 3 carrés de carrelage 30x30 cm. C'est plat et lourd !
google translation:
Hello,
Beginning of the construction of the vessel by the veranda and knees of 22 central couples. I am waiting for the wood for the axial frame.
In the meantime, sanding of the work done and machining of the extensions.
See you soon.
PS: The last photo represents my "clamping-gluing" system. 3 square tiles 30x30 cm. It's flat and heavy!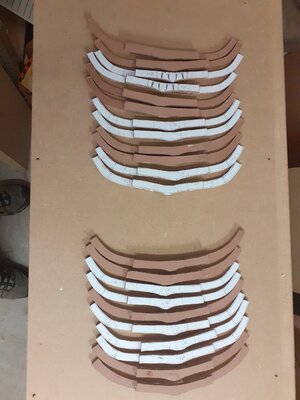 Last edited by a moderator: