Joined

Jun 27, 2018
Messages

651
Points

403
Location
I want to indroduce my follow-up project after my La Belle. Modelling ships is an evolution. For me it is, so i will go one step further and try to draw my own plan for a plank on frame modell.
I will try to build the famous Redoutable which has her part in the history in the battle of Trafalgar.
The Redoutable was refitted in 1794 in Brest based on the plans of the Tigre. The Tigre was captured in 95 and, business as usual, measured in Portsmouth.
My project is based on the contemporary plans availible in the NMM.
The plan is now to draw the whole Timberingplans and to reconstruct the ship to get drawings for a POF-Modell.
First i measured the plan than i put more than 900 measureingpint into the cad to build the hull. The designing from the hull is now complete.
next steps are the position from the stationframes, the postionion from the fasionpiece and the cantframes in the bow. After this i will create the Innerhull for the thickness
of the frames.
Sorry for the poor quality from the screenshots, but i can post the pictures only in JPG.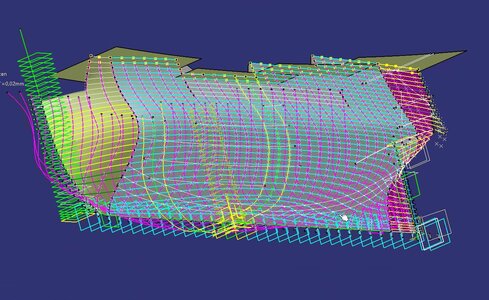 Last edited: