Administrator
Staff member
Administrator
Joined

Dec 25, 2017
Messages

18,351
Points

938

Location
Planset Review:
L'EGYPTIENNE
24-prd French frigate - 1799
in scale 1:48 by
Gerard Delacroix
alias our member
@G. DELACROIX
Brand new release, just some days ago published and already on my desk - many thanks to Gerard for the fast and safe postage.
This very comprehensive and detailed monograph / planset is available directly via Gerards web-page

SYNOPSIS:
The increase in the guns caliber on board of the frigates during the eighteenth century implies a gradual increase in the size of these ships. Naturally, the race for caliber will include, at the end of the century, the 24 prd (weight of the ball in pounds) previously reserved for the ships. During this period, only four units were built. Two of them will be characterized by remarkable performances, La Forte and L'Egyptienne, frigates designed by François Caro.
Based on first-hand contemporary documents and two existing models kept at the Musée de la Marine, it was possible to reconstruct the plans of one of them for which a lot of information is available.
The monograph thus presents the complete study of the frigate L'Egyptienne armed with 24 prd guns. This analysis shows in detail all of her construction with her framework, equipment, decoration, mature, sails and rigging.
This study required the creation of 39 plates reproduced at 1:48. A 216-page booklet explains the story of the frigate, its design, the details of drawing, the rigging rules, and various technical notes needed to build a model. The booklet is illustrated with numerous 3D drawings and 60 photos of the two existing models of the Marine Museum.
one of the contemporary models of the Musée de la Marine
Size of the built model:
The model measures at 1/48 ° (L x W x H):
hull only 1.28 m x 0.28 m x 0.27 m
with masts and rigged 1.66 m x 0.64 m x 1.28 m
CONTENT:
Summary of the book:
24 x 31 cm booklet and 39 plates in a flap box
Jacket illustrated with a watercolor by Jean Bellis.
Booklet 216 pages:
General information on frigates
L'Egyptienne
Instructions for travel to Egypt
Sources
Principles of construction
The decor
Artillery
Chain-pumps
The photos of both models
Plates comments
Metal parts
Paintings
Tables of scantling
Rigging
Dimensions of the rigging
Thanks
List of 39 plates at 1/48:
1 - Schematic elevation of the hull
2 - Vertical sections
3 - Horizontal sections
4 - Structural elements 1
5 - Structural members 2 and chain pumps
6, 7, 8 and 9 - Frames
10 - Framing of the rear
11 - Hawse timbers
12 - Elevation of the framing
13 - Planking
14 - Construction of the head
15 - Rear construction
16 - Longitudinal section
17 - Hold arrangements, low level
18 - Hold arrangements, high level
19 - Structure and fittings of the orlop deck
20 - Structure of the main deck
21 - Arrangements of the main deck
22 - Frame of forecastle et quarterdeck
23 - Fittings of forecastle et quarterdeck
24 - Finished longitudinal section
25 - Cross sections
26 - Equipment, part 1
27 - Equipment, part 2
28 - Boats
29 - Front and rear views
30 - View from above of the complete hull
31 - Great elevation of the hull completed
32 - Plan of copper
33 - Drawings of masts and yards
34 - Filling of the masts
35 - Rigging and rigging accessories
36 - Sails (1/96)
37 - Belaying pins (1/72)
38 - Standing rigging and longitudinal sails (1/96)
39 - L'Egyptienne under sails (1/96)
My first impression and Comment:
It is a high quality monograph, with very good and detailed descriptions in the booklet, which is with with 219 pages a bigger one. Very good and informative colored photos of the existing models, also colored excerpts from drawings in combination with detailed explanations of the french history of frigates with their technical development. Also construction details are explained, so also a great source to understand in principle french frigates -> It is great booklet (take a closer look at the "Look Inside" - photos and you will understand.
Also very positive is the bigger number of drawings which are attached. It seems, that every detail is shown and a great model can be constructed. What I like very much is the fact, that Gerard used very thin thickness of the lines in the drawings - in my opinion very good for the accuracy.
And also very important:
The ship is very very attractive - I was falling in love with this vessel - and I am sure, I am not alone.
I can imagine, that the L'Egyptienne monographie will get a reference planset and a lot of modelers will try and will finalize a model.
This ship is now for me on the top of my personal list of possible scratch built models - I think, that I will try (and hopefully finalize)
This new monograph is highly recommended - do not miss it !
Look Inside of the booklet: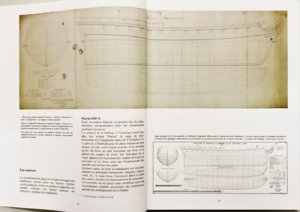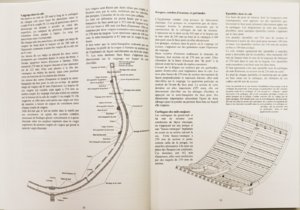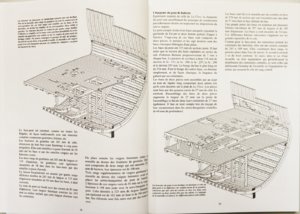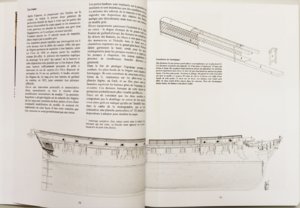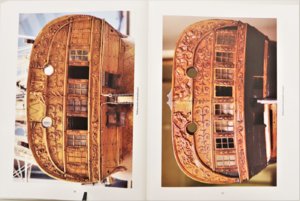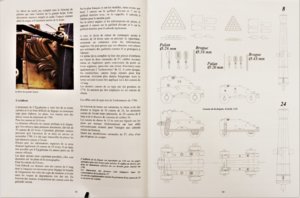 More Look Inside photos of the booklet and all drawings you can find in the following post .....