Joined

Sep 7, 2017
Messages

936
Points

403
Location
This is a build log for the Liburnian Novilara by MarisStella. MarisStella has just re-done this kit and have made several changes to it compared to the old kit.
The kit comes with some nice quality lumber and finely cut laser billets. Rigging, hardware and a sewn sail are also included. Also new to this kit are newly written instructions and a detailed set of drawings to guide you in the build along with a highly accurate plan. I will try and show some of these drawings in this log in order to better help explain what I am trying to write.
I started this build some four months ago and have just completed it today. During the build I did not really give any thought to starting a build log so the pictures are not as detailed as they could be and I apologise for that, however, I think there is enough here to tell the story.
There is a picture on the MarisStella website
http://www.marisstella.hr/index.php?lang=en
of the old style of the Novilara if you wish to compare the differences.
For those of you wondering why the Stefano or my battle station have not seen much action these past few months this is the reason why.
Thanks for looking in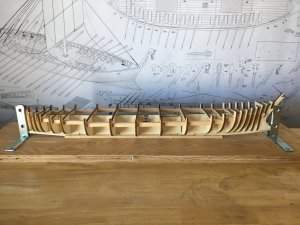 Keel has been glued together, rabbit cut and spacers installed. Spacers can be removed after fairing if you so wish
Planking has started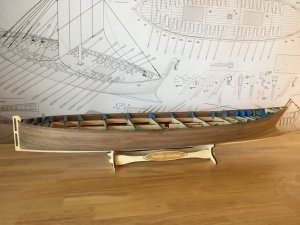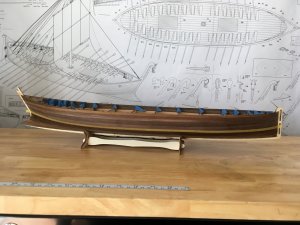 Masking off for the waterline