Administrator
Staff member
Administrator
Joined

Dec 25, 2017
Messages

22,194
Points

1,038

Location
As promised in the other topic I am making now the Review / Look Inside of the book
Ship Decoration, 1630-1780
by
Andrew Pete
rs
Hardcover: 320 pages
Publisher: Seaforth Publishing; First Edition edition (15 Aug. 2013)
Language: English
ISBN-10: 1848321767
ISBN-13: 978-1848321762
Product Dimensions: 22.2 x 2.5 x 28.6 cm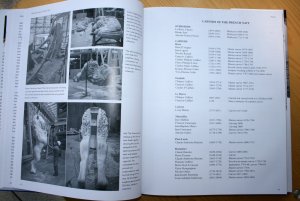 Synopsis:
This book is a detailed comparative study of the decorative work - figurehead, topside ornamentation and stern gallery design - carried by the ships of the major maritime states of Europe in the zenith of the sailing era. It covers both warships and the most prestigious merchant ships, the East Indiamen of the great chartered companies. The work began life in the year 2000 when the author was commissioned to carry out research for an ambitious project to build a full-size replica of a Swedish East Indiaman, which produced a corpus of information whose relevance stretched way beyond the immediate requirements of accurately decorating the replica. In tracking the artistic influences on European ship decoration, it became clear that this was essentially the story of the baroque style, its dissemination from France, and its gradual transformation into distinct national variations in Britain, the Netherlands, Denmark and Sweden. It is an inherently visual subject and the book illustrates developments with numerous photographs of contemporary ship models, paintings and plans, as well as the author's own interpretive illustrations of details. As the first major work on the topic for nearly a century, it will be of obvious appeal to ship modellers and historians, but with comparative examples drawn from architecture and sculpture, it also makes a broader contribution to the history of the applied arts.
Content
Acknowledgement, Foreword by Richard Hunter, Glossary, Introduction (pages 1 to 12)
PART I: A Brief Histrory of the East India Companies (pages 13 to 36)
PART II: Ship Decoration
1. France (page 37 to 64)
2. The Netherlands (page 65 to 94)
3. Great Britain (page 95 to 142)
4. Denmark ( page 143 to 168)
5. Sweden (page 169 to 210)
PART III: The Götheborg Project (page 211 to 229)
Bibliography and Index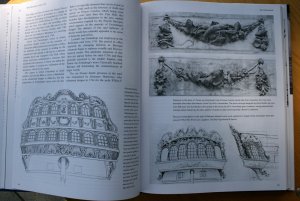 Short Review of the first impression
Andrew Peters, by himself a professional wood-carver, produced here a wonderfull book. It is a treatise on the ship carving work during the heyday of decoration. In the different chapters either the evolution of the styles are shown and explained, but also the difference in the (of this time period) major seafaring navies. Usually not much in english language is available about the dutch and swedish navies of this time.
The photographs and illustrations are wonderfully rendered. A lot of them I never saw in other publication.
This book will please ship modelers, the hobby and professional carvers as well the research historians or history interested in general.
But this book is not and never intended to be a step-by-step carver's textbook, so only the history, styles, differences between the navies is explained.
I think a lot of book for the money. It is very interesting and helpful if you are interested in this subject - Highly recommended for a specialist group of people
Some more look inside photos on the next post......
Last edited: