Joined

Jun 3, 2021
Messages

56
Points

88
Location
The new kit arrived a few days ago, and after swapping the workbench over from electronics shop to shipyard, I'm ready to start build #2!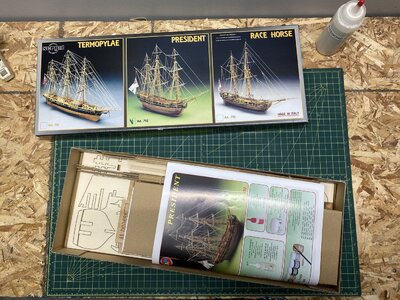 President was actually my second choice, as I really wanted to build Thermopylae, but it was persistently our of stock, so I gave in to the itch and purchased President. Of course, right after, Thermopylae was once again available
. Oh, well, this looks promising anyway.
Definitely more complex than Polaris, but I wanted to step up the challenge factor. I know another build log of this kit said that their pieces were warped on arrival, but I found these to be be perfectly acceptable. The biggest issue was that the slots in the false keel for the bulkheads were all too tight, so I had to file down every single slot. I left them still quite tight, but at least able to be fully seated, which was not possible at first.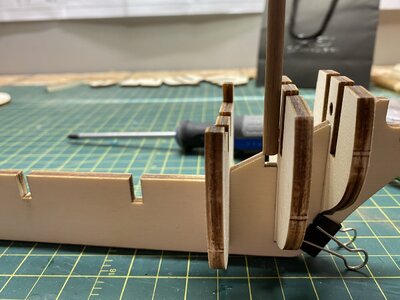 As you can see in the previous two photos, the wells for the masts were also undersized. A little touch-up with the file solved that: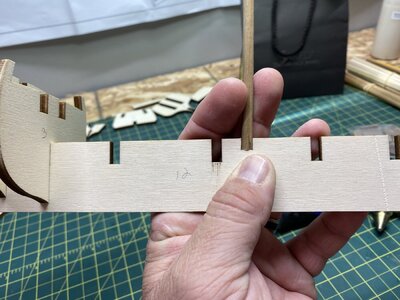 Every slot and mast well on the sub-deck had to be enlarged as well. Since I couldn't dry fit it all the way down due to the different heights of the bulkheads, I took measurements with my caliper and transferred the measurements. Again, I left them snug.
Finally, due to the tightness of the slots, I used a small hammer and a piece of wooden dowel to gradually drive it into place until fully seated:
I made sure to check that the holes in the sub-deck line up with mast wells in the false keel, and touched up accordingly. This is definitely taking more effort to come together than the first kit, but in the long run, I feel that it is experience that will serve me well later on. Based on another build log of this same kit, I am thinking about filling the bow and stern with balsa to help with shaping the hull for planking.